Washington Capitals: Best Late Round Draft Picks in Franchise History
The Washington Capitals have a tradition of doing well in the later rounds of the NHL Draft. Here are their best late round draft picks of all-time.
For teams like the Washington Capitals, chances to draft at the top of the NHL Draft are rare. It's a blessing and a curse. The truly great teams find ways to have success in the draft even when the odds are against them. In the NFL, the New England Patriots are a terrific example. The NHL has the Detroit Red Wings, though they've been worse as of late.
While the Capitals are far from flawless in the draft, they've made some very good decisions in the late rounds. Washington has gotten some franchise cornerstones in the late rounds by exploiting inefficiencies and taking risks on high upside prospects. Of course, they've had their failures as well.
The criteria for this list is as follows. Each player must have been drafted by the Caps past the third round to be eligible for selection. Numbers while with the Capitals are relevant while statistics with other teams will be weighed more lightly.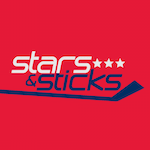 Want your voice heard? Join the Stars And Sticks team!
Write for us!
Hopefully, recent potential late round gems Connor Hobbs, Riley Barber and Christian Djoos will pan out to be NHL players. However, looking at this list, the bar has been set at a high level.
Here's a look at the Capitals' best late round gems.