Capitals advance to second round in NHL 20 simulation
The fourth game in a series is always the hardest one to win but the Washington Capitals finally did it in our NHL 20 simulation.
It took the Washington Capitals six games but they finally finished off the Buffalo Sabres in the NHL 20 simulation and have advanced to the second round of the playoffs with a 4-1 win.
The Capitals had a 3-0 series lead but dropped the last two games. How would they respond in this Game 6 in Buffalo? A goal in the first period combined with some bad blood that comes with an intense playoff series.
Jakub Vrana notched his fourth goal of the playoffs on a great play pouncing on a loose puck in front of the net. Tom Wilson and Nicklas Backstrom had the assists. The goal came at 5:38.
Later in the period at 12:28 Alex Ovechkin and Zach Bogosian dropped the gloves. Ovechkin won the fight easily. The Caps took a 1-0 lead into the dressing room for the first intermission. The Sabres outshot the Caps 6-4 in the first 20 minutes.
The Caps added to their lead 55 seconds into the second period with a blast by Dmitry Orlov from downtown for his first goal of the playoffs. It came right off the face-off draw won by Evgeny Kuznetsov.
Kuznetsov would make it 3-0 at 5:01 with his third goal of the playoffs coming down the ice and finishing off a passing sequence with T.J. Oshie. Orlov had the secondary assist.
3-0 was the score after two periods. The Sabres outshot the Caps 15-13.
The Sabres finally got on the board with a goal from Jeff Skinner at 3:27 but Kuznetsov would put it away with an empty netter with 45 seconds to go to seal the win.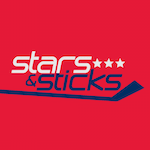 Want your voice heard? Join the Stars And Sticks team!
Write for us!
The Caps were outshot 25-22 but won the face-off battle 15-11. The Sabres outhit the Capitals 10-7. Both teams went 0-for-1 on the power play. Braden Holtby made 24 saves in the win.
With the win, the Capitals will take on the Pittsburgh Penguins in the second round in what is sure to be an entertaining series. We'll simulate those games and provide recaps for you in the coming weeks.