Washington Capitals look to extend winning streak to six on Friday
The Capitals have won back to back games in San Jose and Los Angeles. Can they do something Friday they have not done since drafting the Great Eight?
The Washington Capitals are hot. Since October 25, they are 14-2-2 which is a 0.833 points percentage.
The Caps are even hotter on the road. They have a 13-2-1 road record this season which is a 0.844 points percentage.
Defenseman John Carlson might be the hottest Capital. He currently sits sixth overall in points with 42 which is 14 more than the next defenseman.
On Tuesday, the team went to San Jose and beat the Sharks. Carlson had three points to lead the Caps to a 5-2 win at the SAP Center.
On Wednesday, the team was in Los Angeles to play the Kings. Carlson had two goals to lead the Caps to a 3-1 win at the Staples Center.
On Friday, Washington has a chance to do something they have never done in the Alex Ovechkin era. The Caps have never won three road games in California during the same season since they drafted the Great Eight.
The Capitals have been impressive this season. Actually, that is an understatement. The Caps have been amazing.
Back to back games have historically been an issue for this team. Yet, this California road trip has been different.
On Wednesday, the Caps got out to a quick 2-0 first period lead thanks to Carlson's two goals. The Kings, who were rested and at home, despite their rough start to the 2019 season, have played great hockey at the Staples Center lately. They were 7-1-1 at home heading into the tilt against Washington.
The Caps will look to break a three game road losing streak to Anaheim on Friday when they take the short Interstate Five trip to Anaheim. Washington has not beat the Ducks in California since March 7, 2016 when they won 2-1 in a shootout.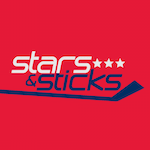 Want your voice heard? Join the Stars And Sticks team!
Write for us!
Before that, the Caps practically owned the Honda Center as Ovechkin and his teammates were six for six in the win column.
Can the Caps continue their torrid pace? Can they break a three game road losing streak in Anaheim and win all three games in California since they drafted Ovechkin? We'll need to wait until Friday to find out.