Capitals are spot on with mental health awareness night
Last night was more than just an ordinary Thursday night Washington Capitals game and not just because of another sweet Alex Ovechkin hat trick.
The Washington Capitals hosted their first ever Hockey Talks Mental Health Awareness night during their game against the New Jersey Devils.
Partnering with MedStar health, the game had several activities discussing the topic of mental health which included a PSA, video features, and even a table set up so fans can learn more about the American Foundation for Suicide Prevention (AFSP).
With that same organization, the team hosted an event called Talk Saves Lives which was a presentation on mental health and suicide prevention. That took place last Thursday.
Similar to "Hockey Fights Cancer" fans were encouraged to print out signs encouraging those that are going through rough times and reminding us all that we're never alone.
Not only fans participated in the signs but players did as well. Garnet Hathaway and Radko Gudas each tweeted pics on their own Twitter accounts. Gudas' sign read, "It's OK to not be OK" while Hathaway's said something that truly hit home to anybody there with mental health issues, "I know you're going through some stuff. I'm here for you!"
Later in the game players on both the Capitals and Devils held signs showing support. The Capitals are one of 15 NHL teams that are participating in "Hockey Talks".
Prior to the 2017-18 season I was personally going through stuff. What kept me going was turning to following the Capitals even though they lost a handful of important pieces in free agency over the summer. Like many of the fans, we had no idea what to expect but we were along for the ride. Looking back on it, it was the best roller coaster ride for us all.
I'm sure other sports fans do the same thing, turn their attention to their team, the games, the atmosphere, the camaraderie between both teammates on the ice and fans in the stands.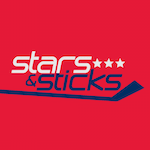 Want your voice heard? Join the Stars And Sticks team!
Write for us!
By the way if you're reading this and you're going through mental health issues, GET HELP! It'll be the best decision you'll ever make. If you or any of your loved ones are in need of immediate help, call the National Suicide Prevention Lifeline at 800-273-TALK (8255). You can also text the National Suicide Prevention Lifeline at 800-273-TALK (8255). Both are available 24/7.
Seeing the NHL and especially the Capitals participating in initiatives such as "Hockey Talks" is another reason to be proud to be a fan of the game.