Washington Capitals: Waiting for Erik Karlsson and Tom Wilson to decide
Although the Washington Capitals business is almost done this summer, a possible Erik Karlsson trade and Tom Wilson extension leaves uncertainty.
The Washington Capitals need some folks to make decisions.
First, the Ottawa Senators and their dysfunctional relationship with their soon-to-be-ex defenseman Erik Karlsson. Perhaps the biggest target left this summer where the Sens dump him has huge implications on the Caps regular season.
If a team out west grabs him, or a struggling east team like the New York Islanders or Detroit Red Wings, then it is a pile of nothing. Instead of three games against him, it is two. No big deal.
But, if the Tampa Bay Lightning grab him, then that is big. Although the Caps will not need to make a splashy move, they kept John Carlson; it makes their playoff margin of error even smaller. Somehow, if the Philadelphia Flyers swoop in, that could change the dynamic in the Metropolitan Division.
The Caps would love to repeat as division champs again and avoid the dreaded two versus three first-round matchup. The Flyers have the cap room for Karlsson even if the Sens sign him to a max deal then trade. Not a likely deal, but worth watching.
The other hold on the Caps summer moves is Tom Wilson's new deal.
Although Wilson did not file for arbitration, a good sign of overall progress, there is no sign a long-term deal is close. Regardless of how long the contract is—no one will make a qualifying offer as the draft compensation favors Washington—the Caps need to know what the cap hit is.
Washington has under $8.2 million left under the salary cap. Madison Bowey is the other restricted free agent unsigned. He is coming back, do not worry. But, the Caps must have enough of a margin to sign a veteran defenseman and/or a backup goalie.
Andre Burakovsky is next season's largest free agent, and he is restricted. They will have the room to make him happy.
How much room depends on whatever Wilson's contract is. If he gets a $3.5 or $4 million cap hit, it leaves around $4.2 to $4.6 million for fixing holes this season or money to put aside for Burakovsky. A prudent amount.
However, the Wilson deal must finish soon. The Lightning and Toronto Maple Leafs have done well this off season and the Flyers back James van Riemsdyk. Do not sleep on the Bruins either. The road back to the Stanley Cup finals is narrow.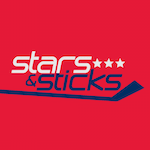 Want your voice heard? Join the Stars And Sticks team!
Write for us!
Whatever happens over the next few weeks, the Washington Capitals remain in good shape for next season. But, they must have time to react to others moves. Although Karlsson is out of their hands, getting Wilson signed soon is a must.