Braden Holtby Achieves a Historic Milestone, Becomes Second-Fastest Goaltender to 250 Career Wins
Washington Capitals goaltender Braden Holtby has achieved another impressive milestone. Holtby became the second-fastest goaltender in NHL history to win 250 career games after the Washington Capitals defeated the Philadelphia Flyers 5-3 on Wednesday night.
Holtby has been in the league for nine seasons, becoming a mainstay in between the pipes since the 2012 playoffs that saw him backstop the seventh-seeded Capitals past the then-defending Stanley Cup champion Boston Bruins in seven games. Since that successful first round, Holtby has won game-after-game and achieved milestone-after-milestone.
In the 2015-16 season, Holtby won 48 games to tie Martin Brodeur's record for most wins by a goaldener in a regualr season. His succesful campaign led him to win the Vezina Trophy. The next season he led the NHL with 42 wins.
"He's great out there and he's been great for us for so many years," said center Nicklas Backstrom. "It's impressive and for us as players we're so proud of him and happy for him that he's the second (fastest) goalie to reach that milestone. I think that says it all about him, about how important he is for us and for the franchise."
Last season Holtby struggled down the stretch and lost out on the starting goaltending job to begin the playoffs. Holtby came on in relief of Game 2 of the Capitals' first round series against the Columbus Blue Jackets and remained in the net since. Holtby finished the postseason with a 16-7 record, a 2.16 GAA and a .922 save percentage. He also made the save of the century in Game 2 of the Finals, leading the Capitals to their first Stanley Cup in franchise history
On Wednesday night, Holtby stopped 27 of the 30 shots he faced for a .900 save percentage to win his 25th goame of the season and his fourth game in a row. It took Holtby 409 games to win his 250th game, 21 games more than Jacques Plante of the Montreal Canadiens who's the third fastest to 250 wins. According to Capitals PR, Holtby is one of just 52 goaltenders in NHL history to reach the 250-win mark and one of 12 active goaltenders in the league to reach the milestone.
Capitals PR also noted that Holtby has won 61.3 percent of his 409 games. That's the highest percentage among active goaltenders with at least 250 wins. The next closest is Marc-Andre Fleury of the Vegas Golden Knights with a 55.0 winning percentage. Holtby is 19-9-2 against the Eastern Conference this season.
"It's pretty crazy when you think about it. I've been fortunate to play on some really great teams. Wins is a stat that is shared with your whole team and it's a consistency thing with the regular season so it shows the committment we've had in this organization and hopefully we can continue that," said Holtby.
"Another amazing statistic that he's been able to accomplish… It's an amazing feat. He's definitely put the work in, no doubt about that and it wasn't easy for him," added Capitals head coach Todd Reirden.
"I love those types of stories when it's not always the guy that's supposed to be the best from age 15 on. He definitely was not that and he's earned everything that he's got and he's been a huge part of our success the last few years and played a huge role in our Stanley Cup last year and we need him everyday that's for sure. As he continues to play better hockey it seems like our team is playing better hockey as well."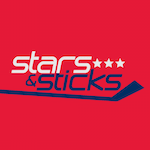 Want your voice heard? Join the Stars And Sticks team!
Write for us!
As a Capitals fan, I've enjoyed watching Holtby play and remember when he made his first NHL start on my birthday back in 2010. Conincedently, that first start came against the Flyers. After Captials legend Olaf Kolzig retired, the Capitals struggled to find the right netminder. They ultimately found their match with the Holtbeast and now he needs just 53 more wins to tie Kolzig for the franchise lead.