Washington Capitals: Jakub Vrana is Priority Number One this Offseason
As the Washington Capitals realized the good thing they had brewing, they knew retaining key guys would be essential. Every offseason, at least the last three years, has had that storyline.
In 2017 the priority was to re-sign T.J. Oshie. Last summer, it was to re-sign Tom Wilson. Both players got lucrative contracts but each one was well-deserved. This summer, like Adam Zielonka of The Washington Times writes, the next man in line is Jakub Vrana.
The big question is whether general manager Brian MacLellan believes in the 23-year old left winger to the point of whether he earns either that financial secuity of a long-term deal or instead gets a short-term "prove me" bridge deal.
Whatever the Capitals do won't come without a price. In that 2017 summer they lost their 2007 first round, fifth overall draft pick Karl Alzner to the Montreal Canadiens after they re-signed Oshie. They had the money to bring back one player but not the other.
Last summer, it was inevitable that Wilson was getting a big pay day after just coming off the bridge deal he signed in 2016. That was when fan favorite Jay Beagle went to the Vancouver Canucks which gave Wilson an even bigger payday than many thought he would get.
This summer, the Capitals may not lose one player but multiple players that were popular among the fans. It's a ticky-tacky situation and it's why as JJ Regan from NBC Sports Washington writes the entire Capitals offseason could be determined by this deal.
I won't go far to say that but the Capitals were spot on in re-signing who they did. They have a core intact that can compete for a Stanley Cup for the next few seasons. That's why this summer will be interesting to see who's still on the team.
Devante Smith-Pelly had a down season but everybody knows what he did in the playoffs the year before. Brett Connolly had his best season in D.C. and will be looking for that massive payday in a way similar to the ones Alzner and Beagle were looking for the last two summers.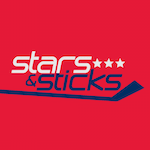 Want your voice heard? Join the Stars And Sticks team!
Write for us!
Andre Burakovsky is as unpredictable as it gets but there are a lot of fans that would be sad to see him go if it comes down to that. He also helped the Capitals win the Eastern Conference last year with two big goals in Game 7.
Carl Hagelin did it to the Capitals so many years in the playoffs. Why not bring him back for another crack at seeing what he could do for the Capitals in the playoffs?
These are all things we'll be watching as the weather warms up. One thing is for sure. After scoring a career-high 24 goals, it would be foolish to let Vrana walk out the door.