Washington Capitals: Braden Holtby is the Coolest Goalie in the NHL
Braden Holtby of the Washington Capitals is an elite goaltender in the National Hockey League. Every hockey fan knows this. He is also, however, the coolest goalie in the NHL.
When talking about most players that aren't on their favourite team, most fans will turn to the stats to identify who the best players are. I know I'm guilty of this and I'm sure I just exposed some people who are as well. Look, we can't watch every single game of the season and stats are there for a reason after all. So most fans are familiar with Braden Holtby of the Washington Capitals because he has been one of the best goalies in the league for the past 5 seasons.
He has won a Vezina Trophy, helped the Caps win two President's Trophies and, of course, helped carry them to their first Stanley Cup in franchise history. My point being that this is how fans of other teams are familiar with Braden Holtby. They know he's a stud in the crease. What Caps fans such as myself know in addition to him being a stud on the ice is that he's also a stud off the ice.
Goalies are typically weird and yes, Braden Holtby has some weird tendencies (eye movement before game, squirting water up during an on-ice break and following one drop until it hits the ice, etc.), but overall he's a very normal and very cool guy.
For starters, the guy is just handsome as all hell. An absolute "manrocket" as they would call him on Spittin' Chiclets. In addition to him being a stallion, he also has the full beard and the long-flowing hair that basically encapsulates what looking like a hockey player is. He's got the flow, he's got the beard and he's got some unreal style. Some of the suits this guy walks into the rink in are Henrik Lundqvist-esque.
He tops that look off (pun intended 1000%) with one of those flat-brim fedoras straight from P.K. Subban's hat rack. Moral of the story: this guy dresses very well. He looks exactly like what a lot of us want to look like and he does it seemingly without trying…and not trying is way cool.
Aside from being into fashion when he's off-ice, Holtby also plays the guitar. Are you kidding? You only get sexier if you play the guitar. Like, why don't you just have everything going for you? He played a concert for his teammates when the Caps were on the road in British Columbia and the boys loved it.
Speaking of not trying, that's what it looks like when Holtby plays hockey. He's almost never smiling, he's rarely visibly upset, he's just calm. This was on display no better than when Rich Peverley of the Boston Bruins became frustrated with Holtby and pretended to swing his stick at him, coming dangerously close in the process. Holtby just stood there with his arms crossed looking unimpressed. Like, what a badass.
That was in 2012 but he's just as calm today as he was back then. Just watch the replay of him making "The Save" against Alex Tuch of the Vegas Golden Knights in Game 2 of the 2018 Stanley Cup Finals. He just pops up and goes about his business as if he didn't just save the series and change a franchise with the flick of his wrist. Just an absolute animal and a complete stud.
There isn't much cooler than looking like you aren't trying, as I mentioned, and Holtby does this while being one of the best goaltenders on the planet. We talked about stats a little bit earlier and Holtby's are no joke. He's a career 0.918 save percentage with a 2.57 goals-against average. To make him cooler, he excels in the postseason. He's a career .928 save percentage and a 2.09 goals-against average. He loves the big moments. He is also a two-time All-Star. He's been more human than usual the past two seasons (excluding the 2018 Playoffs where he was a beast) but he's still one of the best in the game. It's one thing to look cool when you play but another thing entirely to back it up.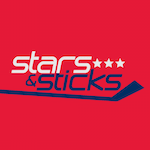 Want your voice heard? Join the Stars And Sticks team!
Write for us!
If you haven't realized by yet, I love this guy. You see goalies like Andrei Vasilevskiy whose eyes look insane when he's playing or Sergei Bobrovsky who has an insane head-of-hair on him and dances like a fool with Artemi Panarin and it helps you appreciate just how cool Braden Holtby is. His eyes aren't wide-open, they're squinted and focused. He would also never be caught dead dancing like that on camera, he only dances in water fountains.
Whether he stays or goes will depend on how the Capitals and Holtby are able to negotiate but as of right now, I don't like the Caps' chances in a negotiation with Holtby. He's so cool he could talk his way into the General Manager position. And when the guitar comes out mid-negotiation? The $10,000,000 he wants will already be in his pocket. He's just too cool.