Washington Capitals are the first team to 50 points
The Washington Capitals have had the leagues best record for most of the 2019-20 season. They are the first team to 50 points.
The Washington Capitals beat the Boston Bruins on Wednesday night on a John Carlson third period goal. The two points for the win brought their season total to 51 in only 33 games.
The Caps are the first team to reach the 50 point level. The Bruins have the second most points with 46 but they do have a game in hand. The teams play again on December 23 this time in Boston.
Caps fans are quite familiar with the team leading the league in regular season points. The team has done it twice in the past four years and three times in the past eleven years. Only the Detroit Red Wings have won the Presidents' Trophy more.
Winning the Presidents' trophy only guarantees entry into the NHL playoffs. In those three years, the Caps failed to make it past the second round twice losing to Pittsburgh and were upset in the first round by Montreal when goaltender Jaroslav Halak stood on his head and stoned Washington (subtle irony that the Caps got three past Halak in Wednesday's win).
In the 2009-10 season, the Caps had a 3-1 series lead before the Canadiens won the last three games. In Game Five, Washington out shot Montreal 38-28 and lost 2-1.
In Game Six, Washington out shot Montreal 54-22 and lost 4-1. In Game Seven, Washington out shot Montreal 42-16 but lost 2-1. Despite a 134 to 66 shot advantage, Washington was outscored 8-3 reminding everyone that a stellar season can be wiped out by one hot goaltender.
The Caps are more resilient now then they were ten years ago. While only Alex Ovechkin, Nicklas Backstrom and John Carlson remain from that team, they have brought the lessons learned forward.
The proof can be shown by the 2017-18 Stanley Cup season. The prior two seasons, Washington won the President's trophy only to be beaten by Pittsburgh in the second round of the playoffs. The Penguins would win the Stanley Cup both years reminding Caps fans how close their team was to achieving the ultimate goal.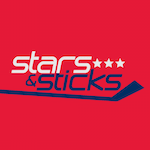 Want your voice heard? Join the Stars And Sticks team!
Write for us!
Caps fans should be excited that the team is playing well. The team is 23 players strong with four solid lines and three defense pairings. Even the goaltending has improved the last few weeks.
It is great to Rock the Red in December but even better in June. Let's hope that the team is building so that they play their best hockey in the spring next year.