No surprise: Washington Capitals lose in the back to back finale
The Washington Capitals are the second worst team in the NHL on the second of back to back games. It is no surprise they lost to Philadelphia.
The Washington Capitals have been the team to beat for the past three plus seasons. They have the highest regular season points percentage since the beginning of the 2016-17 season. If the team has an Achilles heel, it is playing back to back games.
Wednesday's game in Philadelphia was the eighth back to back game for the Caps this season. The Flyers were also playing their second game in two nights traveling back from Carolina after losing to the Hurricanes.
So it is not too surprising that Washington suffered a loss to the Flyers. The Flyers got out to a quick start scoring 3:24 into the first period.
The Caps bounced back quickly scoring two goals in the next 9:10 of the first to take a 2-1 lead. The Flyers found the twine with less than a minute to play in the period to knot the score at two.
Despite being outshot 13-8 in the first period, the Caps salvaged a cold start. Unfortunately, they would not score again.
The Caps dominated the second period. At one point, they had a 9-0 shot advantage finishing with an 11-3 margin. Yet the only score came with 2:01 left in the period when Kevin Hayes beat Caps goalie Braden Holtby on a shorthanded breakaway.
Back to back games are a regular season issue since any playoff back to backs are equalized playing the same team. Still, the Caps need to find a way to find their legs in the second game since playoff back to backs, while extremely rare, do occur.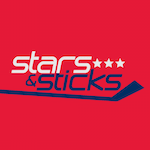 Want your voice heard? Join the Stars And Sticks team!
Write for us!
Age shouldn't be a factor as the average age for the top 20 Caps, 28.1, is below the 28.4 league average. They have been utilizing a strategy to rotate their goalies in back to backs which should make for a well rested goaltender.
Hopefully the team has noticed this trend and are trying ways to solve the problem. With a 30-10-5 record, the Caps don't have too many problems to fix.