Capitals get it wrong with Nicklas Backstrom extension
Nicklas Backstrom signed a five year contract extension with the Capitals. There is a high likelhood that the team will regret this contract down the road.
The Washington Capitals signed center Nicklas Backstrom to a five-year $46 million dollar contract extension. The deal will average $9.2 million through Backstrom's age 37 season.
Backstrom is likely the second most important Capitals player in the history of the franchise behind his teammate Alex Ovechkin. Caps owner Ted Leonsis made it a priority to keep his Swedish center and the deal signed on Tuesday likely guarantees that Backstrom will be a Capital for life.
While it is noble for the Capitals to keep one of their marquee players in franchise history, the team will soon regret doling out the ninth highest cap hit contract for a center. The contract exceeds the $7.8 million cap hit that teammate and center Evgeny Kuznetsov will earn over the next five plus seasons which may cause some internal friction in the locker room.
It is worth considering the state of the NHL salary cap. NHL players have been very vocal about their distaste for the current escrow system. The most sustainable solution to this problem is to grow the salary cap ceiling at a much smaller rate. The possibility exists that the maximum cap value may even be frozen.
The Caps have been a team that has spent to the ceiling for a long time. That is not likely to change so long as Ovehckin and company are competing for the Stanley Cup. Backstrom's contract will make it that much harder for GM Brian MacLellan to find the role players and solid third line forwards that make the Caps one of the hardest teams to play.
With Backstrom's contract included, the Caps will have just a little more than $11 million dollars to sign at least seven more players to complete a 23 man roster. Not too long ago, MacLellan had to trade goalie Philipp Grubauer for peanuts on the dollar so that the Colorado Avalanche would take Brooks Orpik's albatross contract.
MacLellan may need to make a similar deal with a player like Dmitry Orlov or T.J. Oshie to get enough cap space to have viable third and fourth line forwards and second and third pair defensemen. The teams depth will certainly suffer with less money to go around.
A short history lesson is likely a good reminder when a team has too many high-priced stars. Not too long ago, the Chicago Blackhawks won three Stanley Cups in a six-year period.
The core of that team was on entry-level deals or bridge contracts that later justified paying players like Brent Seabrook top of the market dollars. While Seabrook earned his contract helping the Blackhawks win their Cups, his play tapered away such that his performance was underwhelming compared to his contract value. The Blackhawks have not finished higher than 20th overall in the league standings in the last three years.
It is worth noting that Seabrook signed an eight year contract when he was 30 years old. Players north of thirty are more prone to injury and eroding performance. Backstrom will be 37 going on 38 when his contract expires. How long can he continue to perform at a high level?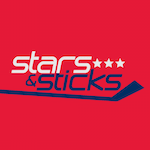 Want your voice heard? Join the Stars And Sticks team!
Write for us!
Backstrom is a very likable player and has endeared himself to Caps fans around the world. Salary caps are unforgiving when players are paid for sentimental reasons that don't equate to their level of performance.
With a full no movement clause for the first three years and a limited trade clause in the last two, Backstrom will be a Cap for a long time. Here's hoping that he defies Father Time and delivers performance at least equal to the size of his contract.