Capitals: Ilya Samsonov will win Calder Trophy
We've reached that point in the season where Washington Capitals fans everywhere are pondering the future between Braden Holtby and Ilya Samsonov.
No matter what the Washington Capitals do this summer to address their goaltending situation, rookie netminder Ilya Samsonov is making a strong case to win the most prestigious award bestowed upon a rookie.
If Samsonov receives the award it'll be the first time a Caps player took home the Calder Trophy since Alex Ovechkin did it following his rookie season in the summer of 2006 after an astonishing 52-goal season. As the years went on, we all know Ovechkin's numbers are a normal thing.
Back in 2015 was when the Capitals drafted this particular Russian star. Samsonov was the highest goalie the Caps had taken in a draft since Olaf Kolzig in 1989 at 19th overall. Samsonov was selected with the 22nd pick and there was already conversation that he would be the future heir to Holby's throne.
That was back then. Looking at the current situation now reading tea leafs indicate that the future of the crease belonging to Samsonov is sounding more and more like a reality.
Before the season there was a question as to who would be the backup. Pheonix Copley had the role last year but a tough decision was made and with Samsonov's strong play in the preseason that decision was to send Copley down to Hershey and bring up Samsonov to gain NHL experience.
Samsonov made his NHL debut on Long Island, stopping 25 of 26 shots on his way to a win. He followed that up with a 24 save performance eight days later in Dallas. Samsonov has won six straight outings including 10 of his last 11 games. The momentum is real.
On Saturday afternoon with his team trailing 4-1, Samsonov was on the bench for the first 40 minutes before head coach Todd Reirden put him in the game. The team used their offensive power to take the lead behind an Ovechkin hat trick while Samsonov stopped all seven shots he faced.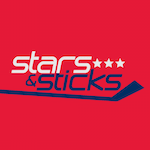 Want your voice heard? Join the Stars And Sticks team!
Write for us!
It was Samsonov's ninth consecutive win on the road. He's the only goalie in NHL history to win each of his first nine career away games and is one of two goaltenders to win each of his first eight career road games. The other player was none other than former Capital Brent Johnson during his time with the St. Louis Blues in 1999.
We all wondered what Samsonov would show during the rookie season. With a 15-2-1 record, a 2.06 GAA and a .927 save percentage, it's been flashes of brilliance and the reason why he should be in the Calder Trophy conversation.