Washington Capitals: Predicting how many goals Alex Ovechkin scores
Alex Ovechkin is playing like a man on the mission with the Washington Capitals this season.
With 40 goals, Alex Ovechkin is tied for the NHL lead in goals and the Washington Capitals superstar isn't slowing down anytime soon. With 700 career goals in his sights, he'll get another kick at that can tonight against the New York Islanders.
Can Ovechkin score two goals and set off a wild celebration Caps fans will remember for moments to come? Or will it have to wait until the Caps are on the road? It'll be interesting to find out.
When Ovechkin reaches the 700 goal club he will join the likes of seven other players: Wayne Gretzky, Gordie Howe, Jaromir Jagr, Brett HUll, Marcel Dionne, Phil Esposito, and Mike Gartner.
Ovechkin reached 40 goals before any other player this season, yes including David Pastrnak of the Boston Bruins who had the lead over Ovechkin for a while. It was the ninth time in his career he was the first to reach 40 goals. He's had 11 40-goal seasons in his career and trails only Wayne Gretzky by one season for the most. Gretzky played for multiple teams, however, while Ovechkin has only played for one.
It took Ovechkin 53 games to reach 40 goals, the third fastest to reach the mark and the first time since his age 24 season (2009-10, 51 games) and age 22 season (2007-08, 52 games) respectively. He is also the 10th player in NHL history to reach 40 goals at the age of 34 or older and the first since Daniel Alfredsson in 2007-08.
Before we predict where Ovechkin winds up let's dive into the advanced stats for a bit. His Corsi For percentage is at 51.84 percent thus far as well as a 52.16 percent scoring chance for.
With Ovechkin reaching 40 goals and on the cusp of 700 there's also conversation that he could reach 50 goals and pass Mike Gartner's goal record by the end of the season. Right now he's on pace to finish with 60 goals thanks in large part to his momentum the last few weeks. There's a reason why he continuously makes our stars of the week.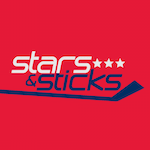 Want your voice heard? Join the Stars And Sticks team!
Write for us!
I think he'll reach 50 by mid march and finish the year with 56 goals. It's a safe bet and you cannot bet against Ovechkin. I wouldn't be surprised if he reaches the 60 goal plateau for the first time since the 2007-08 season when he scored 65 at just age 22.
As Ovechkin keeps playing the goals get bigger and bigger. Here's hoping he nets two tonight and gets close to 60 by the time spring rolls around.