Capitals: Connor McMichael is the top prospect to watch in 2020
The Washington Capitals have a good team on the ice currently but their future looks bright thanks to young bucks such as Connor McMichael.
When the Washington Capitals selected Connor McMichael last summer he wasn't just a center. He was a next-gen center who will help bolster the Caps offense when he cracks the training camp roster either next season or in a few years from now.
A standout on the London Knights, McMichael finished the season with 102 points in 52 games with 47 goals and 55 assists. He had 31 multi-point games and was the only player to be named the OHL "On the Run" Player of the Week three times.
McMichael became the third London Knights player selected in the first round of the NHL Draft to record at least 100 points in a season following their draft year since 2000, joining Mitch Marner (2014-16, 116 points) and Corey Perry (2003-04, 113 points).
McMichael led the team in points and finished 34 points ahead of the next-highest scoring forward on the Knights (Liam Foudy finished with 68 points). In addition to 31 multi-point games, McMichael recorded a point in 45 of his 52 games played. He ranked second in the OHL in points per games played with 1.96.
McMichael is only 19 years old and has already proven himself in the OHL. It begs the question on if he's ready to crack an NHL lineup but it is easier said than done making Washington's veteran heavy lineup.
Even so, McMichael might be back in the OHL next season since he's too young to play in the AHL. But it would be beyond fans wildest dreams to see him on a line with Alex Ovechkin. Probably beyond McMichael's dreams himself too, who wouldn't want to share a line with Ovi?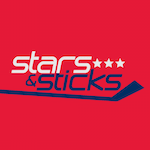 Want your voice heard? Join the Stars And Sticks team!
Write for us!
McMichael also earned a spot on Team Canada and helped lead them to the Gold Medal in the World Junior Championships with five goals in seven games.
McMichael possesses a lethal shot and great speed and has learned from one of the best minds in the game in head coach Dale Hunter. This summer McMichael plans to work with trainer Gary Roberts who has trained numerous pros including the other Connor, Connor McDavid.
If McMichael makes the jump from the OHL to the Caps, he'd be the first player to do so since Tom Wilson. That's his goal but even if he doesn't reach it, expect another strong season from McMichael with the London Knights. He was a late first rounder but the Caps truly drafted a gem.