Capitals: Jakub Vrana would thrive playing on the top line
One of the most clutch players on the Washington Capitals this season has been Jakub Vrana. Imagine him on the top line.
Jakub Vrana has been mainly on the second line throughout the course of the season and the Washington Capitals are reaping the benefits of their two-year bridge investment from over the summer.
Vrana is enjoying a career-best breakout season with 25 goals and 27 assists for 52 points. All are career-highs. Six of those goals are game-winners. 24 of those goals are even strength while one came on the power play, whether Vrana deserves more time on the man advantage is a debate for another day.
Players like Vrana, who we haven't even seen reach their ceiling yet, are hurting with the pause in the NHL season. The Capitals knew they drafted a gem and unlike one certain player actually kept him around and have reaped the awards.
This makes me wonder then if the lines need to be tossed in a blender with the way the Capitals have played since the start of the new year. Maybe change things up.
Let's get Vrana on the top line. Alex Ovechkin can still make an impact on the second line. We can keep Evgeny Kuznetsov on the top line and maybe bring up T.J. Oshie switching places with Tom Wilson.
Vrana's Corsi For percentage with Nicklas Backstrom and T.J. Oshie is 51.46 percent. His Corsi For percentage with Tom Wilson and Evgeny Kuznetsov is decent at 49.76 percent. These numbers came courtesy of Natural Stat Trick.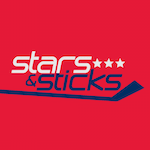 Want your voice heard? Join the Stars And Sticks team!
Write for us!
We know Vrana has the potential to be a 30-goal scorer from watching him play this season. Could he be a 40-goal scorer just from moving from the second line to the first line? There's only one way to find out and that's seeing it live.
While we are at it, we would love to see Vrana get a look on either the first or second power play unit. Maybe slide into Tom Wilson's spot on the second unit or T.J. Oshie's spot on the first unit. Keep Nicklas Backstrom and Evgeny Kuznetsov intact where they are. Keep Ilya Kovalchuk on the first and Lars Eller's clutchness on the second. That's how I'd draw it up.
Then again I'm not Reirden but what I can say is the Caps wouldn't regret putting Vrana on the top line. Here's hoping hockey comes back and we see "Top Line V" pan out sooner rather than later.