Capitals: Top 3 hockey movies to watch during the suspended season
With no Washington Capitals hockey for the foreseeable future, many fans are turning to movies to fill the void.
It doesn't replace the live hockey game setting but there are several great hockey movies that can provide a great distraction for Washington Capitals fans as we wait for hockey to return. Here are our top 3 hockey movies to watch.
#3 Slap Shot
Slap Shot came out in 1977 and set the standard for sports comedy films. It is about a minor league hockey team that resorts to violent play to gain popularity in a blue collar factory town.
It is set in a fictional small town called Charlestown. The local mill is about to lay off over 10,000 workers and it even threatens the minor league team the Charlestown Chiefs as well.
Finding out the team could be folded the coach let the players loose and if you love fights and humor Slap Shot is definitely the hockey movie for you.
#2 The Mighty Ducks
The Mighty Ducks is a Disney classic about a youth hockey team. It's about Gordon Bombay, who is a successful defense attorney in Minneapolis. He celebrates winning another successful case by going out drinking but gets arrested for drunk driving and is sentence to 500 hours of community service.
His community service involves coaching the local "District 5" Pee-Wee hockey team, returning to the sport that Bombay had a history with in his youth. Back then in the championship game he missed a penalty shot leading to an overtime defeat.
When he meets the team for the first time, he realizes they just plain stink. As you watch this movie, the Ducks turn from losers to winners and the movie was so successful there were sequels as well as a TV series about the franchise. That brings us to number one.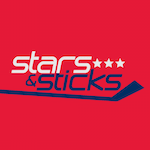 Want your voice heard? Join the Stars And Sticks team!
Write for us!
#1 Miracle
Perhaps the best movie to watch and in my opinion the best hockey movie of all time is Miracle. If you have Disney plus you're in luck as they have it on there.
Miracle is about the 1980 USA Olympic hockey team that shocked the world by upsetting the Soviet Union in the semifinals and going on to win the gold medal. The film followed the coaching life of Herb Brooks and his journey to coaching that team to greatness. It also features one of the most iconic pregame speeches.
Those are our favorite hockey movies that are worth watching while in quarantine. What are yours? Let us know in the comments!