Capitals: Grading the season so far of Ilya Samsonov
Washington Capitals fans may have gotten a glimpse of their future.
In goal most nights for the Washington Capitals has been Braden Holtby and rightfully so. It's his net and will be for the playoffs. But what happens if Holtby doesn't return? Enter Ilya Samsonov.
Samsonov had enjoyed his recent rookie season before the year was paused due to the novel coronavirus. He had a good winning streak in the middle of the season but struggled before the pause. Now with the extra rest, he should be fresh and ready to go in case his number gets called in the playoffs if Holtby has a bad game.
Samsonov finished the regular season with a 16-6-2 record in 22 games started with a 2.55 goals-against and a .913 save percentage. It was a big question before the season, whether or not to bring up Sammy to get NHL experience but after a solid training camp he deserved the backup spot on the team this season.
With the salary cap issue always plaguing the Caps, the team might not be able to afford Holtby beyond this season which will make the net solely belong to Sammy with the possibility of another vet getting the backup. There's also Pheonix Copley and Vitek Vanecek in the system.
Samsonov was drafted back in 2015 as the 22nd pick in the draft. He was the highest goalie the Caps had selected in the draft since the team drafted Olaf Kolzig in 1989 at 19th overall. At one point in time, he won nine straight games on the road, something unheard of for an NHL rookie goaltender.
Final regular season grade- A: Samsonov's hot start exceeded expectations and he even got trust from head coach Todd Reirden to start in some high profile games. As expected, he slipped a little bit before the pause as rookies aren't perfect navigating their first full season in the show.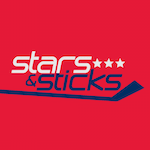 Want your voice heard? Join the Stars And Sticks team!
Write for us!
Samsonov's future looks bright and his solid starts earned him an A in my book. As for the future of the crease in Washington, don't worry about it yet. Just sit back, relax, and enjoy the anticipation of hockey coming back and jumping right into the Stanley Cup playoffs.
For more information about COVID-19, visit the CDC's website or the website for your state's Department of Health.