Washington Capitals should stick with Braden Holtby
Come playoff time, the Washington Capitals should go with Braden Holtby.
The Stanley Cup playoffs are coming and 24 teams across the NHL are gearing up for the grind ahead. For the Washington Capitals, five players are currently back skating at MedStar Capitals Iceplex including Braden Holtby.
You've heard the debate numerous times, who should the Caps go with in goal for the playoffs? We here at Stars and Sticks believe in Holtby and are with him as our goalie and should training go well, that's who the Caps will put in net in the playoffs.
Caps head coach Todd Reirden talked to reporters and he said when asked about the goaltending situation that it's "Holtby's job to lose."
"Going into it's Braden Holtby's job to lose and I feel confident in him. I felt confident with where things were going right before the pause in terms of how his game was coming around and I think he'll get the first crack at it," Reirden told reporters in a Zoom conference call on Monday.
Holtby struggled in the beginning of the season from October through January with an .896 save percentage and a 3.11 goals-against average. Their rookie Ilya Samsonov meanwhile had enjoyed a solid start to his NHL career with a .925 save percentage and 2.12 GAA during that stretch.
However since the beginning of February the Holtbeast started to catch fire. Holtby had a .901 save percentage and 3.08 GAA which was a significant improvement compared to Samsonov's .869 save percentage and 4.34 GAA in that same stretch which included an 0-4-1 record. While one goaltender improved the other struggled which isn't too surprising because you don't want to shower a rookie goaltender with ridiculous expectations.
"Braden Holtby's body of work in playoff games speaks for itself and how he definitely helped our team to win our first-ever Stanley Cup and was a huge, huge part of that. So, I'm happy to see that Braden's back here in town and will be working with our goalie coach coming up later this week when we're allowed to have staff join these sessions," added Reirden.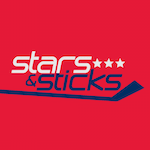 Want your voice heard? Join the Stars And Sticks team!
Write for us!
We all know Holtby is a goaltender that loves to show out when the playoffs start and we gotta appreciate greatness every time we see it. His beard and his work ethic speak for itself and we can't wait to see what he brings to this new and wacky unprecedented postseason.
Holtby will be ready and so will we.