Washington Capitals: All Ours is the best hockey documentary to watch right now
The perfect doc to gear up for the playoffs Washington Capitals fans.
The Stanley Cup traveled to seven different countries during the summer of 2018 and ALL OURS: Bring Home the Cup is the right documentary to watch to relive that epic summer. The Washington Capitals won that 2018 Stanley Cup to end a long championship drought for the city.
We all reveled at that moment and this documentary takes a trip down memory lane showing us behind the scenes footage from each game in the run. But that's not all. Watching this documentary gives you an all access pass to some of the key players days with Lord Stanley's Cup.
First we get a look at Lars Eller's day with the Stanley Cup after the highlights show Eller's game-winning goal against Columbus that kept the season alive. This marked the first time the Cup made it to Denmark and Eller had a big turnout both from his family and fans.
Back to the ice the Caps completed the comeback after Eller's overtime goal. They never looked back in that first round and took the series in six games.
Back to footage of the days with the Cup, we take a look at Braden Holtby's big day with it where he celebrated it in Saskatchewan. He brought the Cup to his old hockey arena as well as the Holtby farm where he grew up.
The documentary shifts to round two where a familiar opponent awaited them. This would be the third straight second round meeting between the Caps and Pittsburgh Penguins and unlike the previous two times, Washington got the job done.
After highlights of Game 2 where the Caps evened up the series, the documentary shifted to Matt Niskanen's day with the Cup in Virginia, Minnesota where he took it for a ride on his boat.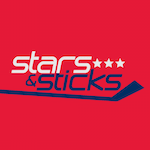 Want your voice heard? Join the Stars And Sticks team!
Write for us!
Once the Caps won Game 3 thanks to Nicklas Backstrom feeding a pass to Alex Ovechkin that he banged in in Pittsburgh, the doc shifts to Gavle, Sweden for Backstrom and Christian Djoos' day with the Cup. The two Swedes shared their day together. It meant a lot to Djoos, who was coming off his rookie year, due to the fact that Backstrom is a big time star in Sweden.
But that wasn't all. There were more players that got to spend their day with the Stanley Cup and you can watch the documentary for free on YouTube above! I won't spoil the rest for you.