Washington Capitals: Who Needs Sports When You Have NHL 20
Every League Except The NHL is in a Frenzy and it's Not Good.
Who misses the National Hockey League, because I'm dying for it. Since the pandemic hit and shut down the country, there's essentially been no sports PERIOD.
The NBA has talked and set up a return to play date, the NFL seems to be the one consistent league with a tentative on-time start date set for the first week of September.
By now, all of you know that Major League Baseball has lost allot of its season and now looks to be on its way to playing 60-games, more than likely dividing teams into a 3-division setup.
Thirty-Days and Hockey Back
However, if you don't already know, hockey is set to return July 31st and once that occurs, people will go nuts, bars will be jumping even more and playoffs, which we've been waiting for since the season was put on pause in mid March, will be here. Meanwhile, I have something better than that.
Gotta do Something While There's No Sports
While playing NHL 20 more, well because we don't have live, professional NHL, I've been hitting the sticks allot more. Of course I chose to start a season playing as the Capitals and boy was it interesting.
Ovechkin and the Capitals Are Back at it Again
The Capitals would start hot, enter the all-star break on fire and conclude the season as the best team in the league, with a record of 64-14-4 and 132 points while finishing the season going 6-3-1 into the postseason. To top it of, Alexander Ovechkin scored 83 goals and had well north of 170 points and of course he won the Rocket 🚀 yet again. I mean, just name the damn thing after him.
When the playoffs started, I faced the current second place, Philadelphia Flyers. But, they were way too easy and was a no match for the Capitals as they swept🧹 them 4-0 in the first round. Furthermore, and as always, we had to face our arch nemesis, the Pittsburgh Penguins 🐧. That series went to a Game 7, but we prevailed in that game, causing Mike Sullivan to pull Matt Murray, after giving up four goals in the first period.
At this point, it was time to spread the wealth and just have fun. The Capitals would go on to win the game 12-2. The hand shake line formed and Sidney Crosby's face was hanging low once again, because now Ovechkin was two rounds away from claiming his second Stanley Cup and one away from tying him.
Next up for the Capitals was the Toronto Maple Leafs. Yes, I said it, the Maple Leafs. However, we would only need 6 games to defeat them and be crowned the Eastern Conference Champions. It felt awesome to to be awarded the Conference trophy for the second time in three seasons.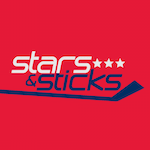 Want your voice heard? Join the Stars And Sticks team!
Write for us!
There was too much talent to not win another one. A deadline acquisition that helped in winning it again, was acquiring Elias Lindholm from the Calgary Flames, in exchange sending Dmitry Orlov. Biggest surprise trade was Zdeno Chára being acquired via trade while on the injury list. Sure that made it a little easier, but I didn't think I could pull it off, but I did.
As of now, game one of the Stanley Cup is set to begin tomorrow at 8:00 p.m. eastern time at Capital One Arena.