Washington Capitals: Connor McMichael is the player to watch in the future
The Washington Capitals player to watch in the future is Connor McMichael.
One of the biggest draft picks Brian MacLellan selected for the future of this organization was Connor McMichael and for good reason. He's hailed as the Washington Capitals number one prospect and chances are we could see him soon getting a learning experience like no other as a black ace in the Stanley Cup playoffs.
McMichael hasn't gotten a lot of NHL action. In fact he was with the team in the preseason for a few games before the coaches sent him back to juniors. Even so, it wasn't a demotion but rather to save him since he is the future of this team.
McMichael was selected 25th overall in the NHL draft and he very well might have been the steal of the first round. He recorded 36 goals and 72 points in 67 games leading up to his draft selection.
Then he impressed in the preseason and when the team sent him back he was told to continue to work on his game and that the team will continue to keep a close eye on him.
When McMichael rejoined the London Knights he went on to have a breakout season where he scored 47 goals and added 102 points in 52 games including six hat tricks. His numbers were impressive and earned him a spot on the OHL's second all star team.
It's still too early to tell how good McMichael will be but the highlight reel and the stories about him don't lie. This kid's got it. He was definitely a solid draft pick in the first year the team selected a forward in the first round of the draft in five years.
Now if McMichael gets called up to the Caps for the playoffs that doesn't guarantee that he'll play a game. His NHL debut could still be a few years ago. The purpose of brining up a black ace is to give the team backup in case an injury happens.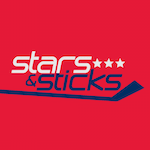 Want your voice heard? Join the Stars And Sticks team!
Write for us!
It also helps to give them some experience of life as an NHL player getting to practice, travel with the team, and watch the team from the press box and be able to see things better than you would if you were on the bench.
It'll be exciting to watch McMichael's career unfold. He looks to have another breakout season in London before he makes a stop in Hershey and then ultimately Washington.