Washington Capitals: Making the case to make Lars Eller a captain
Lars Eller would be a great captain on the Washington Capitals.
Of course, the Washington Capitals are already well equipped with captains in Alex Ovechkin, Nicklas Backstrom and John Carlson but there will come a time when Ovechkin and Backstrom will skate off into the sunset. When that happens, Lars Eller should get the captain spot.
Eller began his career in 2009-10 as a member of the St. Louis Blues and continued for six years with the Montreal Canadiens. In 2016 the Caps traded for Eller in exchange for second round picks in 2017 and 2018.
Eller was brought on board to help improve a struggling bottom six forwards and after the addition, the third line got better. In his first season he scored 12 goals and added 13 assists for 25 points. His next season saw him score a career-high 18 goals and 20 assists for 38 points in a year that got him a contract extension through the 2022-23 season. Eller is making $3.5 million per year.
Another reason he deserves to be a captain is his leadership from the 2018 Stanley Cup playoff run. He scored two of the most clutch goals we've seen in the playoffs. First it was a season saving goal in Columbus against the Blue Jackets in double overtime. It was the most beautiful ugliest goals and it happened in a gritty fashion right in front of the net.
Eller scored seven goals that postseason along with 11 assists for 18 points. His last goal was memorable as well as it was a poke past Marc-Andre Fleury to help the Caps win their first Stanley Cup.
Eller followed that season up with 13 goals and 23 assists for 36 points. This season he was even better and had 16 goals and 23 assists for 39 points before the season was paused after 69 games.
Eller though is more than an impact player on the ice. He also has made an impact in the D.C. community off the ice during the quarantine away from hockey. Eller donated state of the art disinfecting walkthrough cleanse portals to Central Union Mission. Those portals have helped keep entering employees and guests from harmful pathogens including the novel coronavirus.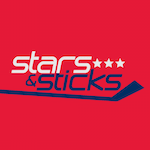 Want your voice heard? Join the Stars And Sticks team!
Write for us!
Eller told ABC 7, "There has been a lot of focus on supporting frontline workers and first responders in this pandemic, and that's really important, but I want to make sure the homeless community isn' t overlooked. Many of us are fortunate to be able to stay home and avoid exposure to the virus, but there are a lot of people in our city who don't have access to a safe haven like that."
It is doubtful he won't be given a captain until Ovechkin or Backstrom retire but the moment one of them does is when Eller should get a C or an A patch on his jersey.