Washington Capitals should wear their third jersey for playoffs
Should the Washington Capitals wear their thirds?
Unless there is another outbreak that jeopardizes all the plans the NHL has made, I think it is safe to say that the NHL playoffs are back (knock on wood). This means that the Washington Capitals have made it to the postseason for the sixth-straight season. These aren't ordinary playoffs, however.
This season's dance is unlike any other dance that has been danced before. There are 24 teams, a qualifying round, a round-robin, hub cities, and a bunch of other unfamiliar terms being thrown around when being associated with the NHL playoffs.
With this new format introduces a whole new plethora of questions one can ask about expectations from fans and teams. One of the biggest questions that can be asked: Who will win the Stanley Cup? More teams than ever have a shot at the greatest trophy in sports, and nobody knows how teams will respond to the long break and the new setup.
That is why, as a Capitals fanalyst (holy, what a made-up word that is for being a fan and an analyst), I must ask the hard-hitting questions like the one I pose to you readers today: Should the Capitals wear their third jerseys for playoffs?
My initial reaction when I asked myself this question was, "absolutely not. They won the Cup in their regular jerseys, why change that?" This is true, and a good point, voice in my head. I am a very superstitious person, and they did win the cup in their regular jerseys. Fun fact: In 2018, the Caps were batting a thousand in Adidas jerseys. Now, they're .500%, which is still not bad, but not quite as nice. Anyways, to argue the point I made in my own head, I will use another point provided by the same head of mine.
I am going to do something I don't usually like to do and that is not only mention, but praise the Pittsburgh Penguins for a second. In 2015-2016, the Penguins introduced their third jersey that was met with an overwhelmingly positive reaction. Because of this, they decided to wear them for every home game of the postseason. As we know, they would eventually win the Cup that season. They did it in their road whites (like the Caps), but still, they wore them and won the Cup.
Pittsburgh decided to do something ballsy in 2016-2017 that most franchises wouldn't do. They officially made their third jersey their new home jersey, and introduced a white version for away games. This meant that the white jersey they won the Cup in the previous seasons was no longer a part of their wardrobe, which would take some serious chops to make the call on.
Again, as we know, they would go on to win another Stanley Cup and in much better uniforms.
One thing to note is just how miserable the Capitals have been in their third jerseys this season. People have said they need to change them for next season because of how poorly the Caps did while wearing them this season. They did go 3-7-1 while wearing them this season, so I have to admit that as a superstitious person, that would make me nervous. But hasn't this team exorcised some demons in the not-so-distant past? I don't see why they couldn't do it again here.
There are also a lot of teams who respond to their fans' admiration of their third jerseys, such as the Carolina Hurricanes. When the Hurricanes eliminated the Capitals in 7 games last postseason, they were wearing their new alternate jerseys during their home games to please their fans.
Now, I am not a person who hates the Capitals current home and away jerseys. As a matter of fact, I may be one of the few who actually like them. However, I would be lying if I said that they are better than their alternates, which I ranked as their best jersey of all time in my top-5 list.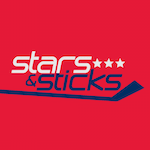 Want your voice heard? Join the Stars And Sticks team!
Write for us!
I just think it would be fun if the Capitals decided to rock their old-school alternate sweaters this time around for the playoffs. They are their nicest jerseys, and imagine if they actually went all the way and won the thing on home ice? Imagine the photo in those things? I get goosebumps just thinking about it.
So, did I write a 700+ word article on potentially wearing a jersey? Yes, I did. But, should the Washington Capitals wear their third jerseys for playoffs? I think it would be a cool idea for the fans. But if they decide not to, that is also fine because they have won a Stanley Cup in their current threads not too long ago. Just remember Caps fans, it isn't about what they look like on the outside…it's about what's on the inside.