Washington Capitals need to step up their power play game
A big key for success for the Washington Capitals is their power play.
One of the biggest struggles that the Washington Capitals need to fix to ensure a deep playoff run is their power play. At one time it was one of the best in the league. Back when the team got off to that hot start. At the turn of the calendar, the power play was one of the reasons the team was inconsistent.
Head coach Todd Reirden tried to shake up the units diverting from the mainstay of Alex Ovechkin, John Carlson, Evgeny Kuznetsov, T.J. Oshie, and Nicklas Backstrom when zone entries failed and puck movement wasn't clicking. He tried to bring Jakub Vrana up to the first unit and Kuznetsov moved to the second line.
Before the season was paused, Vrana and Kuznetsov flipped units again. Reirden even tried to equalize the ice time between the two units but that didn't work either.
The Caps went 2-for-23 on the man advantage in their final 10 games before the pause, just a success rate of 8.7 percent. The Caps are ranked 17th in the NHL with a 19.4 percent success rate on the power play through their 69 regular season games.
Expect to see a regular rotation of players on the power play and if things don't click during the first two games of the Round Robin, a shakeup could be possible.
The first unit will likely feature Oshie, Backstrom, newcomer Ilya Kovalchuk, Ovechkin and Carlson. The second unit will likely have Tom Wilson, Kuznetsov, Lars Eller, Ovechkin, and Dmitry Orlov.
Ovechkin leads the team with 13 power play goals. Oshie has 10. Kuznetsov has six, Wilson has five, Carlson, Backstrom, and Eller each have two while Orlov and Vrana have one PPG each.
Carlson leads the team with 24 power play assists. Backstrom has 16 assists, Vrana has 11, Kuznetsov has six while Ovechkin has five. Eller and Orlov each have four, Oshie and Wilson each have to and Travis Boyd and Nick Jensen each have one.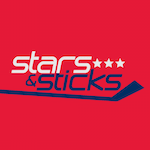 Want your voice heard? Join the Stars And Sticks team!
Write for us!
The Caps hopefully have used their training camp time to work on their power play. I think it'll improve tremendously especially with the addition of Ilya Kovalchuk to help boost the offense.
The power play needs to step up in the fact that two of their round robin opponents, the Boston Bruins and the Tampa Bay Lightning are in the top five in the league in the power play. The Bruins are the best in that category ranking second with a success rate of 25.2 percent. Here's hoping we see plenty of PPGs from the boys in red.