Washington Capitals: How to build a dynasty in 2020
How the Washington Capitals can build a dynasty.
When the Washington Capitals take the ice on August 3rd, they'll be taking the ice on a mission to build a dynasty in 2020. They can easily do that if they can win their second Stanley Cup in three years and they got a strong enough team to do it.
You've already seen our bold predictions of how they'll go 2-1 in the Round Robin and get the second seed. You've also seen us breakdown how the team can win the Stanley Cup. The key to getting there will come down to the power play and if the defense can step up.
The power play started off hot when the team had that fire start to the regular season. When John Carlson killed it and we declared he had the case to win the Norris Trophy. Now he's one step closer.
The power play though has since taken a step back at the turn of the new year. It currently ranks 17th in the league with a 19.4 percent success rate. The Philadelphia Flyers are just ahead of them at 14th with a 20.8 percent success rate. The Tampa Bay Lightning are fifth with a 23.1 percent success rate. The Boston Bruins are second with a 25.2 percent success rate.
The Caps PK is much more successful. They are ranked sixth with an 82.6 percent kill rate. Only the Bruins are their round robin opponents that are higher than them with an 84.3 percent success rate. The Flyers are ranked 11th with a 81.8 percent kill rate while the Lightning are 14th at a kill rate of 81.4 percent.
The defense has a golden opportunity to step up with the new acquisition of Brenden Dillon as well as a chance for Michal Kempny to step up. The long rest can only help the first player mentioned get acclimated to the culture while helping Kempny heal up from a rough offseason a year ago.
It'll also come down to Braden Holtby. He may be shaky at times in the regular season but come playoff time there's no need to worry on whether or not he'll show up. He always does.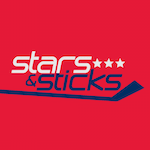 Want your voice heard? Join the Stars And Sticks team!
Write for us!
What will be interesting is the backup goaltending situation considering Ilya Samsonov has yet to practice with the team. Will Vitek Vanecek or Pheonix Copley get a look?
In the end, the Caps are equipped to win the Cup this year and make some noise in the next few seasons to build a dynasty and it'll be fun being along for the ride.