Washington Capitals: Top 3 key players to watch against Bruins
The Washington Capitals have one more Round Robin game.
The Washington Capitals will take on the Boston Bruins to close out the Round Robin on Sunday afternoon with a 12 noon puck drop. It'll be a battle for the third seed in the Eastern Conference.
The Bruins entered the playoffs as the number one seed but now could enter the Stanley Cup playoffs in the opening round as the fourth seed if they drop another game. They fell in the Round Robin opener to the Philadlephia Flyers 4-1. They also dropped their most recent game, a 3-2 defeat to the Tampa Bay Lightning.
The Flyers and Lightning will meet tonight to determine the number one seed for the east making this contest a third place game. The Caps as we all know came back from a 2-0 deficit in their first Round Robin game against the Lightning but fell in the shootout. Recently they dropped their second Round Robin game in an uninspiring effort 3-1 with Travis Boyd scoring the lone Caps goal. The Caps could face either the Carolina Hurricanes or the New York Islanders in the first round of the playoffs when all this is said and done.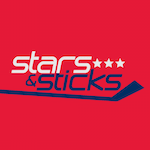 Want your voice heard? Join the Stars And Sticks team!
Write for us!
Here are the top 3 players to watch for tomorrow's game.