Did Braden Holtby play his last Washington Capitals game?
Was this the last time we see Braden Holtby with the Washington Capitals?
The Washington Capitals saw their season end in heartbreaking fashion in a 4-1 first round series defeat to the New York Islanders. It was more than just any series loss however, it was one that could break up the core. Braden Holtby could be on his way out.
"Just disappointed… It's never fun thing to go through… It's more frustrating for us that we had more to give and we didn't find a way to do it," Holtby told the media after the game.
"They played well, they were able to win, and (we) wish the best of the luck to them," Holtby added.
Holtby finished the regular season with a 25-14-6 record with a 3.11 goals-against average and a .916 save percentage. If this is truly the end, he ends his Caps career with a record of 282-122-46 with a 2.53 GAA and a .916 save percentage.
Holtby finished the postseason this year with a 2-6 record, a 2.49 GAA and a .906 save percentage. He made 23 saves on 27 shots in Game 1, 27 saves on 31 shots in Game 2, 32 saves on 34 shots in Game 3. In the Game 4 win, Holtby made 24 saves on 26 shots for a .923 save percentage. In Game 5 Holtby stopped 13 of 15.
Holtby was asked after the game if it was possibly his last game with the Capitals.
"Certainly a chance it is, but who knows. You live one day at a time and go from there," said Holtby.
Holtby will turn 31 next month and will be a due a raise this offseason. With Washington spending up to the cap every year it makes retaining Holtby all the more challenging with other players in need of contracts as well including Alex Ovechkin.
Holtby's stats the last three seasons have been on the decline with the exception of the 2018 Cup run. His current cap hit is $6.1 million and it will be worth more in his raise. It could be Bobrovsky money.
Meanwhile the Caps also have Ilya Samsonov. Despite an injury from an ATV accident, the team is expecting him to be fully healthy and ready to go by next season. Add all that into account and it's reason to think there's writing on the wall that Holtby is on his way out.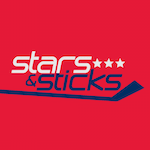 Want your voice heard? Join the Stars And Sticks team!
Write for us!
Another reason is the team had to choose between him and Nicklas Backstrom. They went with the latter in January, re-upping Backstrom to five more seasons worth $46 million.
If this is truly the end of Holtby's time in D.C., Stars and Sticks would like to thank him for everything he's done to leave a lasting impact both on and off the ice.