Washington Capitals: Robin Lehner is top target in free agency
The Washington Capitals are looking to add a goalie.
The Washington Capitals are in the market for a new goalie if Braden Holtby walks. That means they're looking to add a good option for a good price. One player that has emerged as the top target is Robin Lehner of the Vegas Golden Knights.
Over the last two seasons he has burst onto the scene as one of the league's top goaltenders. In 2018-19 he had career highs in all goaltending categories going 25-13-5 with a .930 save percentage and 2.13 goals against average in 46 games. That earned him a Masterson Trophy. This season he went 19-10-5 with a .920 save percentage and 2.89 goals against average.
He spent this season on two different teams, the Chicago Blackhawks at first before getting traded to Vegas at the deadline. Backing up Marc-Andre Fleury he won all three of his games with a 1.67 goals against average and a .940 save percentage.
Last season he played for the New York Islanders helping them making a turnaround to go to the playoffs. He then joined the Blackhawks as a free agent.
The Golden Knights are in the conference finals against the Dallas Stars and Lehner is killing it. He is 8-4-0 with a 1.99 goals against average and a .918 save percentage.
This summer he could demand as much as eight million and as little as five million. The 28 year old will be a top target in free agency and it might be a tough add for the salary cap strapped Caps but not impossible. Lehner has put together a good body of work over the last two seasons but has also shared his goaltending duties.
In Chicago, he shared the net with Corey Crawford and in Vegas with Fleury. If he comes to Washington he will share the net with Ilya Samsonov unless he experiences a sophomore slump. He's got the numbers to be a starter in a different city but if that's not the case he'll be a great mentor to Samsonov.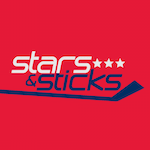 Want your voice heard? Join the Stars And Sticks team!
Write for us!
He will likely sign with the highest bidder and the question is will the Caps be able to afford him. If they hire a rookie coach, God forbid, they might have enough money to afford him. But who knows. He's one of the top unrestricted free agent goalies to enter this offseason and has a chance to win a Stanley Cup with Vegas this season.
If the Caps were to sign him, they would bring on board a worthy veteran to replace Holtby.