Washington Capitals: Early free agency predictions
Washington Capitals free agency begins in less than a month.
On October 9th at noon, NHL free agency will begin. What will the Washington Capitals do? Who will they add? Who will they let walk? You've come to the right place because that's what we'll look at.
The Capitals have four unrestricted free agents and two restricted free agents. They'll bring back both of their RFAs in Jonas Siegenthaler and Travis Boyd. They usually bring back their restricted free agents. It's the unrestricted where the questions begin.
I don't think Braden Holtby will be back. Sorry to break it to you Caps fans. Holtby had a great career in Washington and deserves all the money he can get. In Holtby's place they'll be looking to add a veteran netminder to share the net with Ilya Samsonov. I think they'll add Cam Talbot or someone of the like.
Ilya Kovalchuk will likely not be back either. It is unknown what the Capitals will do with their bottom six forwards, whether they'll make a trade or not. The fourth line was good while the third line was questionable at times.
On the defense, Radko Gudas will likely not be back and he doesn't think he'll be back with the Capitals either. They should look into re-signing Brendan Dillon and maybe adding another blueliner like Chris Tanev. That's what I think they'll probably do.
There will be two factors that go into free agency for the Caps. The first is how much money they'll have after their next head coaching hire, whomever that may be. Another factor is what they want to do with Ovechkin's contract. When training camp begins Ovechkin and Brian MacLellan will continue contract talks.
It'll be interesting to see what the Caps do to address their team and I imagine they'll do something to fix their defense which was shaky during the playoffs.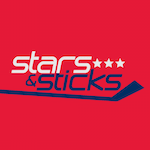 Want your voice heard? Join the Stars And Sticks team!
Write for us!
Tanev would be a great addition. He is a 10 year veteran who played for the Vancouver Canucks. Their season recently ended in the Western Conference Semifinals to the Vegas Golden Knights. In 69 games this season he scored two goals and added 18 assists for 20 points.Tanev also blocked 159 shots and laid out 32 hits. His Corsi For percentage is at 45.2 percent.
Overall, the Caps will be up against the salary cap and won't have a lot of money to spend. We'll see what they do in less than a month from now.