5 Washington Capitals that could potentially be traded
5 Washington Capitals that could be traded.
The Washington Capitals may make a trade soon or around the NHL Draft and free agency. Here are the likely Caps players that will likely get shopped. Don't worry, Evgeny Kuznetsov you're safe.
#5 Travis Boyd
Travis Boyd only played in 24 games for the Caps last season. He is likely going to be looking for a bigger role and he'll command money the Caps likely won't want to pay. It'll be a contract they don't want and one that has the potential to go to arbitration. They could move Boyd after they sign him to free up cap space.
#4 Michal Kempny
Michal Kempny hasn't been the same since his injury from 2019. A positive is that he led the Caps with a +19 rating. A negative is that his Corsi For and Fenwick For both dipped from the previous season. Kempny carries a cap hit of $2.5 million and is on the books for two more seasons, that is unless the Capitals trade him.
#3 Richard Panik
Richard Panik was expected to fill in the shoes of a departed Andre Burakovsky. He scored nine goals and added 13 assists for 22 points. He also added a goal in the playoffs. Panik struggled on the third line but played better when he moved to the fourth line. If the Caps move him it'll likely be to acquire a depth forward.
#2 Nick Jensen
Nick Jensen was brought in for a price of a cap hit of $2.5 million. Moving him would help shed that salary. He makes the same as Michal Kempny but his term is just a tad longer. Jensen had eight assists all season and no goals. One thing that might make moving Jensen complicated is he's one of few right handed defensemen on the team.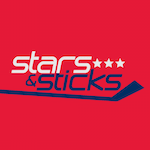 Want your voice heard? Join the Stars And Sticks team!
Write for us!
#1 Dmitry Orlov
Dmitry Orlov has been declining as he's had just seven goals over the past two seasons after a career high 10 goals the season before. He also carries a $5.1 million cap hit, the second highest paid defensemen behind John Carlson. A 5.1 million hit for a declining player is a bit of an overpay so it would make sense to move him. Especially if there's a chance to re-sign Brenden Dillon.
Those are our five Capitals players that will likely be traded. Who would you trade this offseason and for whom Caps fans? Let us know in the comments! See Kuzy, we told you that you'd be safe.