Washington Capitals: 3 things Evgeny Kuznetsov needs to fix this offseason
3 things Washington Capitals Evgeny Kuznetsov needs to fix this offseason.
Recently Evgeny Kuznetsov of the Washington Capitals has been coming up in conversations for the wrong reasons. There's talk about trading him. One of our writers even mentioned that possibility. I personally don't think trading him would solve anything. Rather I'd keep Kuznetsov and he could use this guide to get better.
3. Stay out of trouble
This one obviously couldn't be more clear. Kuznetsov in the past had been in trouble for illegal drugs, getting banned from the Olympics and getting suspended to begin last season. He has to clean up his act and the best way to do that is to stay clean this offseason.
2. Consistency
The key to a breakout season next year for Kuznetsov is if he's consistent in his game the whole way through. He can begin now by being consistent with his training. Kuznetsov finished the season with 19 goals and 33 assists for 52 points in 69 games. The previous year he had 21 goals and 51 assists for 72 points. Those are OK stats but miles from elite.
It is a far cry from his 27 goal season he had the year before to go along with 12 playoff goals and 20 assists for 32 points, a postseason where he nearly won the Conn Smythe Trophy as playoff MVP. That 2017-18 Kuzy is what they want to see more of and perhaps a 30 goal season. How he's going to get there brings us to the next and final step.
#1 Practice
This one is obviously clear but the biggest way Evgeny Kuznetsov can get better and fix his game is more practice. The good news for him if he remains in the D.C. area this offseason is that it looks like MedStar Capitals Iceplex could be open in mid October.
The NHL released new health and safety protocols with the novel coronavirus pandemic still not completely gone. They said that team facilities are allowed to reopen on Oct. 15.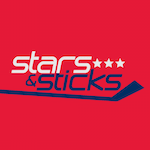 Want your voice heard? Join the Stars And Sticks team!
Write for us!
If Kuznetsov is spending time in his native Russia, then he could find a rink over there to work on his game. He will be one of those players that I think will improve under Peter Laviolette's system. He should be centering the top line with a look on the second line and here's hoping he has one of those consistent seasons.
Those are the ways Evgeny Kuznetsov can improve this offseason to have a breakout year next season.