Washington Capitals: Top 5 best draft picks from the 1980s
The best Washington Capitals draft picks from the 1980s.
The NHL Draft is coming up in a matter of days so today we decided to take a look at a blast from the past looking at the top 5 Washington Capitals draft picks from the 1980s. Before we look in the past let's see what they've done now.
The Capitals will hold five picks in the 2020 NHL Draft which will begin on Tuesday Oct. 6 while Rounds 2-7 will take place the next day. Last year the team made four selections including forward Connor McMichael with the 25th overall pick.
The Caps were one of 10 teams in the NHL this season to have at least 16 drafted players on their roster. Capitals draftees accounted for 64.4 percent of the team's goals, 63.9 percent of the team's assists, and 64.1 percent of the team's points last season.
The Caps will be selecting 24th overall in this year's NHL Draft for the third time in franchise history. In team history, the Capitals used their 24th overall pick to select Marcus Johansson in 2009 and Errol Rausse in 1978. In the last 10 NHL Drafts, players selected 24th overall have played a combined 1,321 NHL games with Kevin Hayes of the Philadelphia Flyers leading the way with 270 points (115 goals and 155 assists) in 450 career games.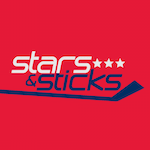 Want your voice heard? Join the Stars And Sticks team!
Write for us!
We'll talk more about this current draft in the future but for now let's look into the past.