Washington Capitals: ESPN 2020 NHL Draft Grades
ESPN's 2020 NHL Draft Grade on the Washington Capitals.
The 2020 NHL Draft took place last week and we already graded our picks. Let's see what the experts at ESPN had to say about this year's draft for the Washington Capitals.
In an article by Chris Peters of ESPN, he graded the Capitals a C. Let's dive into his reasoning.
Peters writes that his favorite pick is the same as ours, Hendrix Lapierre at number 22 overall. He writes the following:
The Capitals' prospect pool has gotten a nice boost in the past two first rounds. Last year, it was Connor McMichael. This year, it was Hendrix Lapierre. He was a risky pick because of health concerns, but he carries high-reward potential thanks to skill and vision.

The Caps don't have immediate needs, so they can let Lapierre develop at his own pace. Not having any picks in the next two rounds didn't really help them too much, but Bogdan Trineyev is a big body with some upside, and WHLer Bear Hughes provides some intrigue. With the biggest piece of Washington's haul coming with such risk, I think it's reasonable to hedge on this class a bit.
Looking at that I think it's a fair grade. It's a risky pick but I believe it was higher reward and Lapierre has time to develop at his own pace. Part of the reasoning the Caps got a C is because their next pick didn't come until the fourth round. Missing out on two rounds does hurt but their draft selections, later on, weren't disappointments.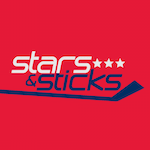 Want your voice heard? Join the Stars And Sticks team!
Write for us!
Bogdan Trineyev is a big body Russian with a lot of upside. Bear Hughes will be a fan favorite instantly in Hershey because of his first name. Garin Bjrorklund joins an already deep prospect pool of goalies. Oskar Magnusson was a steal from the Pittsburgh Penguins.
Overall I would grade the Capitals a B- for their draft performance this year. Their prospect pool needs improvement and this season will say a lot on their development. The Caps have already loaned several prospects overseas and there might be more loans to come.
Overall, I thought it was a good draft and the Caps hit a home run with trading up in the first round for Hendrix Lapierre. That kid is a stud and we love him already knowing that he grew up as a Caps fan and a fan of Alex Ovechkin.