Washington Capitals: A way too early 2021 NHL Mock Draft
A Washington Capitals mock draft for 2021 that's way too early.
The 2020 NHL Draft happened last week and we were all over it with the Washington Capitals. Now it's time to look ahead to 2021's NHL Draft although more focus will be on what they'll do with their roster right now as well as the upcoming season.
Draft Site has the Capitals selecting at 20th next year but that could change. With their 20th pick, the Caps pick defenseman Corson Ceulemans from the Brooks Bandits of the AJHL. Let's learn more about the prospect.
Ceulemans was born on May 5, 2003 in Regina, SK, Canada. He is listed as six foot two and 196 pounds. His stats begin in the 2016-17 season with the Leduc Oil Kings U15 AAA o the AMBHL. In 34 games. he scored nine goals and 12 assists for 21 points.
In 2017-18 he played for the OHL Edmonton Bantam Prep of the CSSHL U15. That season he scored eight goals and 23 assists for 31 points. On the OHA Edmonton Prep the next season of the CSSHL U18 he scored 13 goals and added 16 assists for 29 points while playing in five games for the Brooks Bandits of the AJHL.
Last season for the Brooks Bandits he had five goals and 30 assists for 35 points in 44 games. He also had four assists with Canada Black U17 of the WHC-17. He plans on attending college at the University of Wisconsin.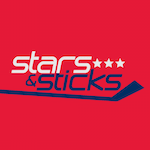 Want your voice heard? Join the Stars And Sticks team!
Write for us!
He will join a defensive prospect pool that already features the likes of Alex Aleyeyev, Martin Fehervary, Lucas Johansen, and much more. After two straight years of drafting a forward, the Caps go back to selecting a defenseman.
What do you think the Caps should do for next year's NHL Draft? What about the rest of this offseason? These are the questions that we'll all try to answer or find out in the coming weeks.