Washington Capitals: Connor McMichael learning much from Alex Ovechkin
Connor McMichael spoke to TSN last week.
Connor McMichael, the number one prospect of the Washington Capitals, spoke to TSN last week on a variety of things and even spoke highly of Alex Ovechkin. The young center made the training camp roster for Team Canada and is a lock to make the roster with the goal of repeating as gold medal champs in the World Juniors.
The 19 year old spoke to TSN's Mark Masters about not only Canada but his life changing experiences over the last year including participating in two separate training camps with the big club and joining the team in Toronto.
On Ovechkin, McMichael had nothing but good things to say about his shot.
"His shot is so hard, it's so accurate, it comes off his stick so quick. Honestly, in practice, I was in love with just watching him shoot the puck and after practice, he'd be taking some one timers and I'd be able to stop and stare and it was pretty cool being around him," McMichael said to Masters.
McMichael said while with the big club he tried to be a sponge and learn as much as he can from the players but things are limited when it comes to Ovi.
"I try to pick little things from everyone, but there's not much I can pick from his game because he's unbelievable," said McMichael
McMichael would then add, "He's (Ovechkin's) a lot bigger in person. He's big on TV, but then you see him in person and he's just a beast. The way he uses his body and everything, he's just an all around great player. I was kind of shocked about how thick and how big he was."
While with the club in training camp, McMichael was mentored by fellow center Nicklas Backstrom. McMichael was impressed with the smart hockey sense that Backstrom had and he hopes to play with the Swede someday in the NHL.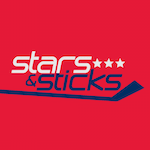 Want your voice heard? Join the Stars And Sticks team!
Write for us!
In the meantime, McMichael is training hard and working on his game to become an even better goal scorer than he was last year when he potted 47 in 52 games last season for third best in the OHL. McMichael added six hat tricks throughout the season.
McMichael looks to work on his shot, puck handling, and all around game to continue to be a consistent goal scorer next season whether he's with the London Knights, Hershey Bears or the Caps.