Washington Capitals: Brendan Leipsic 2020 Report Card
Grading Brendan Leipsic's first and only season with the Washington Capitals.
When the Capitals signed Brendan Leipsic they were looking for a 4th line winger with speed, grit and a propensity for defense. He was expected to improve the penalty kill with his defensive prowess, to firm up a weakness the team had the previous season. His signing was a necessity for a team looking to contend with a thin prospect pool to handle such duties.
So what did the Washington Capitals get from Brendan Leipsic? Initially, he came on the scene quick and with a heavy game for a small statured player. He scored 8 of his 11 points for the year in the first few months of the season. He used his speed so well to set up high scoring chances the team even looked to get him more involved in the attack by giving him some time on the second PP unit.
Although he didn't contribute on the power play as they had hoped with the effort he had shown, his addition did exactly what the Capitals wanted on the penalty kill. Leipsic continued his streak of not allowing a power play goal while on the ice. While he was on ice he held a CF% of 53.4 for the year which is impressive considering his zone starts occurred 53.9% of the time in the defensive zone.
However, as the year went on he saw his contributions fall by the wayside and caused the team to make him a healthy scratch for the final few weeks of the shortened season. To make matters worse his replacement Richard Panik seemed to find a home with Nic Dowd and Garnet Hathaway, and started producing as he was expected to on the 3rd line. This left Leipsic to finish the year with 3 goals and 8 assists while playing 61 games, not what the team was hoping for when adding him to the 4th line.
Just about the time the NHL was looking to come back and finish out the 2019-20 season by creating a playoff bubble, at a time when Leipsic would be looking for redemption by helping the Capitals in the playoffs his removal from the roster was cemented. In early May, some Instagram comments made in a private conversation were leaked and made public. At the root of these comments, Leipsic can be seen calling his linemates, Nic Dowd and Garnet Hathaway as well as old teammates from Vancouver, losers; as well as a number of misogynistic comments against women including players wives.
Now in light of these comments and his release, which was absolutely the right move for the team to take, I volunteered to write this grading of Leipsic while a Washington Capital. I felt I needed to cover him considering I had written previously about how much he had brought to the team, and even lobbied for them to re-sign him as a key penalty killer and 4th line energy source. Regardless, his comments made it impossible for the Capitals let alone any NHL team to re-sign him. Besides his comments about women, which were disrespectful and disgusting to see, when you bash teammates you can not expect to be welcomed back at all.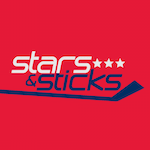 Want your voice heard? Join the Stars And Sticks team!
Write for us!
But here we are, time to grade his contributions to the Washington Capitals for the year even with the way we feel of him as a person we still need to cover what he brought as a player. While he did great as a penalty killer he was still expected to contribute more in terms of offense from the 4th line. Also taking into account the fact that he was bumped from the lineup by a struggling Richard Panik with the team trading for Ilya Kovalchuk to play the 3rd line, this shows he was deemed replaceable at a time when the team was going through some struggles. I would grade Leipsic at a D+.
His scoring dried up or was non-existent once into the 3rd month of the season. As much as I valued his effort and drive, for the most part it was pointless as it didn't really result in goals or assists. In most cases they even resulted in little more than a quick pressure, nothing sustainable as he would take shots from some extreme angles with teammates out of position to rebound. The only thing keeping it from being a lower grade is the one highlight we can get from Brendan Leipsic that embodies what he could bring, giving us an idea of what could have been had his efforts gave more fruitful production and he made better decisions. On this play, he surprises some of the bigger guys from the Anaheim Ducks with a severe hip check, which distracts them while the Capitals tack on another goal. His contribution can be seen at about the 0:25 second mark.
Brendan Leipsic has since signed with the KHL's CSKA Hockey Club.