Washington Capitals will still be the team to beat in the East
The Washington Capitals will still be the team to beat in 2021.
Although the Washington Capitals didn't make too many moves this offseason, they're still the team to beat in 2021 when the NHL season finally kicks off. We don't know when that will be yet but as the world is clamoring for hockey, we're hoping the puck gets dropped on January 1.
The Caps entered the offseason with the annual challenge of trying to stay under the salary cap. Thanks to the novel coronavirus pandemic, the salary cap remained flat at $81.5 million. That gave the Caps less wiggle room to spend money but they got bargains for the small price they paid.
As things stand, the Caps are one million over the cap meaning they need to make one more move to get under. Next season they'll also have the challenge of re-signing players like Alex Ovechkin, Jakub Vrana, and Ilya Samsonov with just $16.3 million in cap space available.
What the Caps did this offseason was tweak their defense and find a veteran goalie to backup Samsonov. The defense needed work after they allowed a 3.44 goals against average allowing 215 goals. Gone would be Radko Gudas and in would be two new guys to make the blueline crowded.
Those signings were Justin Schultz from the Pittsburgh Penguins and Trevor van Riemsdyk from the Carolina Hurricanes. Those two signings improved the right side tremendously where the Caps were hurting on right handed defensemen. The biggest move they made came weeks before that when hiring defensive minded Peter Laviolette at head coach.
To address the veteran goaltending issue, the Caps said goodbye to a struggling Braden Holtby and hello to an old rival in Henrik Lundqvist. Lundqvist wants to win and his goals and desires line right up with team captain Alex Ovechkin which checks all the boxes for him.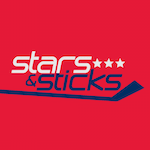 Want your voice heard? Join the Stars And Sticks team!
Write for us!
The Caps finished in the top 3 in the Eastern Conferecne last season with 43 wins, 20 losses, and 90 points, finishing behind the Tampa Bay Lighning and Boston Bruins. They finished slightly ahead of the Philadelphia Flyers who are one of their biggest threats next season no matter what the divisional outlook looks like.
You also can't count out teams like the Penguins if the NHL decides to just stick to the same divisions in years past. But if the Pens are out of the division, you'll have other teams to worry about in their place. Still I trust a team that's coached by Laviolette and the Caps have all the tools necessary to remain an Eastern Conference powerhouse and compete for the Stanley Cup.