Washington Capitals Report Card: Grading offense against Sabres
Grading the Washington Capitals offense.
The Washington Capitals earned a 6-4 win over the Buffalo Sabres to open up the season. The offense was simply awesome. What kind of a grade would you give them on the first night? Before we hand out ours, let's dive into the game and see how they did.
Six goals. That's pretty good. Duh. But the Caps got contributions up and down the lineup. Here's how the lines were paired out.
Forwards
Ovechkin-Backstrom-Oshie
Vrana-Kuznetsov-Wilson
Sheary-Eller-Panik
Hagelin-Dowd-Hathaway
Defense
Orlov-Carlson
Dillon-Schultz
Chara-Jensen
What impressed me the most was the top line. It seems like Alex Ovechkin and Nicklas Backstrom are right where they belong in the lineup. If you placed a bet on Backstrom breaking through to score the first goal of the season over Ovechkin, you would have won a lot of money.
I wasn't the only one who approved the top line. Peter Laviolette himself was impressed. Per Samantha Pell of the Washington Post, Laviolette said, "I liked everything about it."
Another welcome addition to the top line was T.J. Oshie, who's heart and grit were on display the whole night. The Oshbabe had two assists on the night in addition to a deflection goal from an Ovechkin shot.
In the second period the Caps added two more goals. Both of them came from defensemen. After being snubbed from the Norris Trophy last season, John Carlson is off to a good start. In addition to a goal, he also had an assist.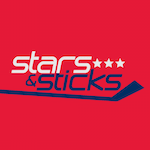 Want your voice heard? Join the Stars And Sticks team!
Write for us!
Brenden Dillon also scored on a shot from downtown, his first goal as a member of the Caps. He is showing he was worth every penny when the team gave him a raise this offseason and the Caps have four tough guys now with Dillon, Zdeno Chara, Wilson, and Garnet Hathaway.
The Caps added two more goals in the third period. The first one came from Jakub Vrana just 26 seconds after the Sabres scored. Vrana picked the pockets and scored on a Sabres turnover to get his season off to a good start. I think Vrana has the potential to score at least 30 goals. Garnet Hathaway put the game away with an empty net goal.
Grade A: The offense was simply awesome and scoring six goals to begin the season is a heck of a start. Allowing four goals on the other hand isn't good but this post is about the offense anyway.