Washington Capitals: Only time will tell future fate of Alex Ovechkin
Alex Ovechkin hasn't appeared in game action in a while due to a lower body injury and has yet to sign a contract extension but that hasn't stopped him from making headlines. Over the weekend the Washington Capitals forward bought a share of the women's soccer team Washington Spirit of the NWSL. The team made it official Monday.
Ovechkin purchased a share along with his wife Nastya Ovechkina joining the club's investor group which includes former first daughters Chelsea Clinton and Jenna Bush, Olympic gold medal winning gymnast Dominque Dawes and U.S. Soccer Hall of Famer Brianna Scurry.
Ovechkin said in a press release:
"Nastya and I are very excited to join the Washington Spirit investor group. I'm excited to help grow women's soccer in Washington DC. Being a huge soccer fan that I am, I can't wait to attend the DC Spirit games and practices and help promote these great players!"
Ovechkin helped grow the sport of hockey and he will only help grow the sport of soccer through this investment. Does this mean he will likely sign an extension with the Capitals to finish his career here? We certainly hope so!
Ovechkin said in a separate interview with ESPN's Emily Kaplan:
"(It's) important to support women and women's professional athletes — not just in the United States, but all over the world."
Ovechkin grew up in a family of athletes. His mom Tatyana was a two time Olympic gold medalist in basketball for Team Russia. His father, Mikhail was a professional soccer player. Ovechkin is a fan of Barcelona and Liverpool. The Spirit open their season on May 16 against the Pride in Orlando.
I wouldn't be too worried about Ovechkin spending time in the press box and not on the ice to wrap up the regular season. The Caps have locked up the two seed. We know it's going to be the New York Islanders or Boston Bruins.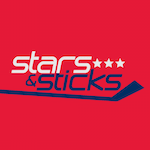 Want your voice heard? Join the Stars And Sticks team!
Write for us!
The Caps have one more regular season game left against the Bruins. It'll be important to rest their key guys (more on that later) and make sure Ovechkin and company are fully healthy for the playoffs. The great eight hopes to run it back with Nicklas Backstrom for a chance at another Cup.
As for a contract extension it looks like a deal might not be done until the summer. I guess "We'll see" what happens but in the meantime let's enjoy the hockey.