Washington Capitals Playoffs: Making the case for Vitek Vanecek to start
The Washington Capitals biggest weakness going into the playoffs is the goaltending. It's not because the goaltenders are bad. It's rather because both Vitek Vanecek and Ilya Samsnov, the goaltending tandem all season for the Caps, have zero postseason experience.
With all that Ilya Samsonov had gone through this season, Vitek Vanecek has proven to be up for the challenge all season long. He will be up for the challenge if head coach Peter Laviolette names him the starter in Game 1 on Saturday night.
From Jan. 19-Feb. 27 Samsonov was out with COVID-19. Vanecek started in 13 consecutive games and 16 of 17. In seven games against the Bruins, Vanecek is 4-3-0 with a 2.86 goals against average and a .905 save percentage.
The end of the regular season was supposed to be an audition between the two netminders to see who deserves the starting goaltending job to begin the playoffs. Samsonov once again ran into trouble with COVID with eight days left in the regular season. He is still on the COVID protocol list even though sometimes he isn't on the list with him being sent to the taxi squad.
This should mean that the starting goaltender position should be set in stone right? Not necessarily. After the first practice of the playoffs on Thursday, Peter Laviolette said he's keeping the Game 1 starter decision internal.
If Laviolette doesn't go with Vanecek, who does he go with? It would make zero sense to throw Samsonov back out there if he gets off the COVID protocol list. Craig Anderson has proven to step in when needed, but he's up there in age.
There's also Pheonix Copley and Zach Fucale but the problem is neither of them even suited up for the Caps in the regular season. Why would they turn to either one in the playoffs?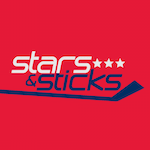 Want your voice heard? Join the Stars And Sticks team!
Write for us!
Vanecek led all rookie goaltenders with 21 wins. He finished with a 21-10-4 record. That includes a 2.69 GAA and a .908 save percentage. We don't know when the Game 1 starter will be announced and we may have to wait until warmups but we have a strong feeling Vitek Vanecek is up to the challenge.
The Caps open the playoffs against the Boston Bruins on Saturday night with puck drop at 7:15 p.m. on NBC.