Washington Capitals captain Alex Ovechkin 'confident' for a new contract in 2021-22
The Washington Capitals season ended on Sunday after losing to the Boston Bruins in the First Round of the Stanley Cup Playoffs. An interesting storyline coming up in the Capitals offseason is the fate of captain Alex Ovechkin.
Alex Ovechkin will become an unrestricted free agent in the 2021 offseason. Despite the possible market for the future hall of famer, Ovechkin is hopeful he will return to the ice in a Washington uniform.
"I'm confident: we still have time," Ovechkin told reporters Tuesday. "Obviously, I want to finish my career here. I'm pretty sure we will do something soon."
Ovechkin signed a 13-year $124 million contract in January 2008. The contract was the first $100 million deal in NHL history. It also remains the highest deal in NHL history.
The future hall of famer may no longer be in his prime, but he remains one of the best weapons in hockey.
During the 2020-21 regular season, Ovechkin played in 45 games (season shortened to 56-games), scored 42 points, had 24 goals with nine of those being on power plays.
Throughout his career, Ovechkin has signed his name in the record books.
In his regular season career, Ovechkin has played in 1,197 games, found the net 730 times (6th all-time), scored 1,320 points (27th all-time), managed 269 power play goals (2nd all-time) and ended games with 116 game-winning goals (4th all-time).
If Ovechkin's year-end media conference does not give you confidence the great 8 will return to Washington, Capitals general manager Brian MacLellan spoke with 106.7 The Fan's Grant & Danny in April.
Contract talks for both Ovechkin and Niklas Backstrom arose during the interview. MacLellan made it clear he wants to see Ovechkin and return to the nation's capital in 2021.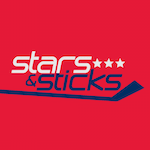 Want your voice heard? Join the Stars And Sticks team!
Write for us!
"These are the only two players that we've ever had that have played 1,000 games with a Capitals jersey on, so it's important for our franchise to have them both finish here," MacLellan said. "Because they've helped define who we are, helped change the sport, what it means to D.C., what it means to this area, and they've been the main drivers of that over the past 16 years."
It remains to be seen what Washington will do during free agency regarding the contract of Ovechkin.
If I was a betting man, I would guarantee Ovechkin returning as a member of the Capitals in 2021-22.