Washington Capitals: The pros and cons of trading Evgeny Kuznetsov
We knew this Washington Capitals subject was going to come up eventually this offseason. Will they or will they not trade Evgeny Kuznetsov? If this was written a year ago, it would've sparked an outcry and probably stirred the pot. One year later and it is the talk of the town.
It has been talked about on the radio. Numerous articles from major media outlets to blogs have discussed this, are the Capitals really open to trading Kuznetsov? The answer from Brian MacLellan is that nothing is off the table as he looks to retool his roster.
But this isn't a Kuzy bash post. This is a look at both sides of the equation. The pros are there but it also comes at a cost. The one big pro is salary cap relief. Kuznetsov carries a $7.8 million cap hit with four years remaining. The tough part is he does have an extensive list of teams he doesn't want to get traded to.
The Caps are also very deep at center. Nicklas Backstrom is going nowhere. Neither is Nic Dowd or Lars Eller. That leaves Kuznetsov as an odd man out if they want to give someone playing time (hello Connor McMichael). But if they are to move Kuznetsov, the return has to be in the form of a top six center otherwise it could cost the team.
And that is where the cons come in. Speaking of cons, Kuznetsov may have nearly won the Conn Smythe Trophy for his performance in the 2018 run to the Stanley Cup. We've all seen what happens with the Caps recent trades.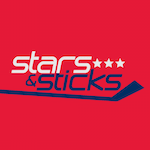 Want your voice heard? Join the Stars And Sticks team!
Write for us!
Chandler Stephenson is thriving with the Vegas Golden Knights. Andre Burakovsky had another good season with the Colorado Avalanche. Jakub Vrana killed it at the change of scenery with the Detroit Red Wings. Kuznetsov has the potential to do the same.
If they are likely to move on from Kuznetsov it'll be because of his 29 point season in 41 games with nine goals and 20 assists. There was a stretch where he played well but he has mostly been inconsistent. Combine that with missed time on the COVID-19 list, once even contacting the virus, and you can see why he struggled.
I love Kuznetsov. I really do. And he will always be a part of the Caps being forever linked to that 2018 championship team. It stinks it had to come down to this. What do you think Caps fans, will they or will they not trade Evgeny Kuznetsov?