Washington Capitals Grades: Ilya Samsonov 2021 Report Card
Next up on our Washington Capitals Report Card series is Ilya Samsonov, who just finished his sophomore season in the NHL. Samsonov had to overcome a lot to get back on the ice for the Caps.
First of all he missed the bubble due to an ATV accident. Second, Samsonov contracted COVID-19 earlier in the season when the Russian four was hanging out in a hotel room in Pittsburgh. Third, Samsonov was back on the COVID-19 protocol list but this time it was his buddy Evgeny Kuznetsov that got the virus. They also were in trouble by the Caps for being late to a team function.
Those were the issues off the ice. When he was on the ice, however, Samsonov was good. This season he was 13-4-1 in 19 games played with 18 starts. That included a 2.69 goals against average and a .902 save percentage.
Samsonov, due to being on the COVID-19 list a second time, missed time to close out the regular season and didn't see the ice until Game 3 of the first round where he lost three consecutive games that weren't his fault. But if you do want to blame him for one of them, blame the Game 3 double overtime game where there was a miscommunication between him and Justin Schultz.
When Brian MacLellan spoke to the media at his end of season press conference, he hinted that the Caps could protect Samsonov. In an article by Ian Oland of Russian Machine Never Breaks, GMBM said:
"I think we're going to give him another opportunity to grab [the number one starting spot] and run with it."
If the Kraken don't take a Capitals goaltender in the expansion draft expect some competition come training camp for the number one goaltending spot between Vitek Vanecek and Samsonov.
Samsonov had a Calder Trophy caliber rookie season for a goaltender and Vanecek followed suit. Vanecek had the sixth most wins in the NHL but had similar below average to average numbers as Samsonov with a 2.69 goals against average and a .908 save percentage.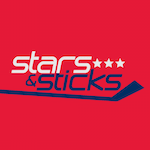 Want your voice heard? Join the Stars And Sticks team!
Write for us!
Samsonov wanted to continue his season by representing his home country of Team Russia in the 2021 World Championships but the Caps said no. Part of it was due to some injury issues that we don't know about.
Grade B+: When Samsonov is on the ice he is on his game. He misses the curve as his first season was a tad bit better but the only "sophomore slumps" for Samsonov came when struck by COVID.