Washington Capitals Three Stars Of The Week: Week One
Every Monday here at Stars and Sticks we will take a look back at the games the Washington Capitals have played and pick out the "Stars of the week".
To determine who the stars are we'll look at several things. First, the traditional stats. Goals, assists, points and the usual goaltender stats. Then we'll look at the eye test. Who didn't necessarily put up points, but who looked good. Then advanced stats. Shot attempts, scoring chances, etc.
The Capitals have started the season very well going 2-0-1 beating the reigning Stanley Cup champions Blues, the Islanders who were a playoff team last season and finished their three games in four nights with an overtime loss vs the Carolina Hurricanes.
With a 2-0-1 record there are plenty of good performances to pick from. With that being said, here are the three stars of the week from the Washington Capitals.
Alex Ovechkin
He might not have the most points, just one in fact and that one being a goal. But the Caps first line looked very good for most of the three games to start the season. With the team down 2-0 in St. Louis and not playing very well it was Ovechkin who scored the first goal and that goal was an absolute beauty. Ovechkin and his linemates were also the only consistent threat on long island.
He wasn't as noticeable against the Hurricanes on Saturday but he brought it late and had a couple of chances and could have (or should have) drawn a few late power plays.
Along with the one goal and being noticeable in pretty much all three games, Ovechkin's advanced stats look pretty good too. His shot attempts% was 59.26% which was tied for third on the team with Wilson behind just Nick Jensen and Dmitry Orlov. When on the ice the Capitals recorded 26 scoring chances and surrendered 16 chances for a 61.90%. Ovechkin also had 10 individual scoring chances, tied with Tom Wilson for the most.
It wasn't the most productive week of his career but he still got a goal, you noticed him a lot on the ice and his advanced stats look terrific as well. Everything checks out, Alex Ovechkin deserves one of our three stars of the week.
The Goaltending
Okay, we're cheating here already. But you know the old saying, "If you're not cheating, you're not trying". Don't cheat kids! Without both goalies this past week the record might not be as good. The Caps did play well but they did let up plenty of chances and without them, who knows, maybe we're looking at two regulation losses instead of wins.
The majority of the work was done by Braden Holtby with him getting two starts to Ilya Samsonov's one. Holtby I thought was massive this week. With the Capitals still trying to find their footing and the Blues pushing in the season opener it was Holtby who kept his team in that game.
On Saturday it was the majority of the offense that didn't show up and the Hurricanes had plenty of chances. Holtby again came up huge and without him the Caps don't even get the one point they did get.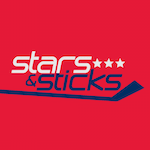 Want your voice heard? Join the Stars And Sticks team!
Write for us!
The stats for Holtby don't look great. Really, they're not stars of the week material. That's why you have to include the eye test when doing things like this. His goals against average was 2.36 (good) his save percentage was 90% (eh). His high danger save% is also average right now at 75%. Anyone who's watched the games however knows how good he was in the two games he's played and he deserved to be in this weeks stars of the week.
As for Samsonov, he had an easier time. In terms of team defense the Caps played the best when he was in net on Friday. Still, he made some very good saves and if it weren't for an incredibly fluky bounce, or more like three of four bounces, Samsonov could have had a shutout in his NHL debut. Instead of saying he has a shutout I guess we can say Samsonov has yet to be beat by an opposing players shot. Good enough. For his performance, winning in his debut and deserving of a shutout I think he deserves to be in the stars of the week as well.
Jakub Vrana
The Capitals have four players with 3 points, Jakub Vrana, T.J. Oshie, Lars Eller and John Carlson. Washington also has two players with two goals, Vrana and Oshie. While all of those players have had moments Jakub Vrana has by far been the most noticeable.
The 23-year old native of the Czech Republic started his season with a bang having a great game against the Blues then being rewarded by scoring the OT winner. He followed that up by sniping home another goal on a 2-on-1 rush to get the Caps going in New York.
His advanced stats were also towards the top of the team. His shot attempts% was 63.33% which was fourth behind Eller, Brendan Leipsic and Oshie. His scoring chance percentage was 58.62%. That was middle of the pack on the team but still a very good percentage. He also tied for second with Oshie and Backstrom for individual scoring chances with 8.
It was a tremendous week for Vrana. He looked excellent, fast, created chances, scored goals and for my money was the best forward the team had in their first three games of the season.
It could be a big season for Jakub Vrana, Caps fans are definitely hoping for that. If the start of the season is any indication he could in fact have a heck of a year. Still a long ways to go however so he'll have to settle for one of our stars of the week for now.
Did someone else deserve to be one of the three stars of the week this week? Let us know who you thought had a good week and let us know who you think should be in future installments.