Capitals: Comparing John Carlson To Other Norris Trophy Candidates
Washington Capitals defenseman John Carlson has a strong possibility to take home the Norris Trophy, but who could he be up against?
John Carlson came out of the gates storming. In October he set records for most points by a defenseman in a month in franchise history. After October he had a nine point lead over the second place defenseman. People were ready to hand out the Norris Trophy already and the Hart Trophy as league MVP was mentioned more than once.
Since then however the discussion has quieted down a bit. That's not uncommon. For whatever reason we love to hand out awards in October and November, then the middle of the season we drop it for a bit before it will start to pick up again in late February or around there.
Last season it was Morgan Rielly of the Toronto Maple Leafs who was crowned too early. We just love to try to sound smart. We love to be the first ones to say something so if that thing comes true we can beat our chests and say "I SAID THAT IN OCTOBER, LOOK AT ME, I WAS RIGHT!".
My point, for future reference, calm down with award talk in the early season.
I'm not going to say Carlson doesn't deserve the award so far. That's not why we're here. Why we're here is to look at Carlson's numbers and compare them to other top Norris candidates. While the award chatter is a bit quiet.
As of right now Carlson is still the favorite to win the award. He's followed by Roman Josi of the Nashville Predators, Dougie Hamilton of the Carolina Hurricanes and Victor Hedman of the Tampa Bay Lightning.
Carlson still has a big lead in points. He has 56 points right now, 13 goals and 43 assists. Second place is Josi with 14 goals and 46 points. Third is Hedman with nine goals and 41 points. Finally is Hamilton with 14 goals and 40 points.
Those numbers are likely the biggest factor when deciding who wins the Norris Trophy. Like it or not that's what that award has become, which defenseman can score the most. At this point, I would say it's very unlikely Carlson isn't leading the league in points come game eighty-two.
No stat alone will tell us who is better or who is having a better season. But lets just look at a couple of stats and maybe we can tell who out of these four is having the best year.
We'll start with Corsi%. Which defenseman is having the best season helping his team get more shot attempts for and less attempts against. The best here is Dougie Hamilton with a 57.91%. He's followed by Roman Josi at 53.79%, next is Hedman at 53.50% and finally Carlson at 50.71%.
The Hurricanes are the best shot attempts team in the league and have been towards the top for the last two seasons. That should make it less shocking that Hamilton has a big league in this stat.
Now we can move on to scoring chances. Who helps their team get more scoring chances and how many scoring chances has come against all four of these men? Hamilton once again leads the way, he has a 59.18% scoring chance percentage. He's followed by Hedman with a 58.31%, then comes Josi at 55.35% and finally Carlson at 50.97%.
Scoring chances against looks like this. Carlson has 381 against while on the ice, Josi has 359, Hamilton has 278 and Hedman has 276. Time one ice should come into play here, Carlson has 810:46 played, Josi has 839:06 played, Hamilton is at 769:22 and Hedman is last with 733:25.
Finally we'll take a look at high danger shot attempts percentage. Which one of these four guys is having the best season of helping his team get and deny high danger chances? Dougie Hamilton once again will take the top spot here, his high danger Corsi% is 58.42%. Roman Josi and Victor Hedman essentially tie for second place, Hedman is at 57.20% and Josi is 57.19%. John Carlson comes in a distant fourth with a pretty average 50.16%.
In terms of high danger attempts against the Capitals have given up the most with Carlson on the ice, they've given up 153. Josi and the Preds have allowed 131, Hamilton and the Canes have given up 121 and Hedman and the Bolts have allowed 113.
If you want to look at one more stat, a somewhat controversial stat we could take a look at +/-. Dougie Hamilton is at +30, Josi is at +23, Carlson comes in at third here with +13 and finally Hedman is +10. Again, take that stat for whatever it's worth.
Is John Carlson still the runaway favorite for the Norris Trophy? Luckily for me I don't or won't have to decide that. If you're going by today's standards, he has a big lead in points, yes, he's the runaway favorite.
That being said, they're all somewhat even in goals scored. Should Carlson win a defenseman award because he has more assists? Which means his teammates are better at finishing their chances.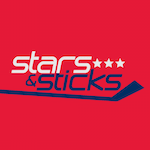 Want your voice heard? Join the Stars And Sticks team!
Write for us!
I think this is a valid argument. Capitals fans will argue he's the hands down favorite thanks to his points scored and fans of the others will probably point to the other stats I've mentioned today showing Carlson and his team give up more defensively.
We still have just under three months in the season to decide this. We'll see if Carlson can pull away once again or if the field will get even closer than it is now.