Capitals: When Alex Ovechkin and Matt Bradley went to a car show
On Thursday's during the paused NHL season, Stars and Sticks will present some throwback Washington Capitals content.
Alex Ovechkin loves his cars and back in the day him and fellow Washington Capitals teammate Matt Bradley checked out the D.C. Auto Show. This video was from a jumbotron series called "Two on the Town."
You can see how little they are! Ovechkin and Bradley were at the event to sign autographs and take photos with fans. The camera followed them around as they checked out each of the different types of cars on display.
"Ovie said I can't afford a Ferrari and he's right but he's gonna buy me one right?," asked Bradley.
Ovechkin replied, "Yeah. Next year."
Ovechkin's favorite car he saw was the Aston Martin while Bradley liked the Porsche. Bradley showed off the rims and said Ovechkin had some of them back home. He said he would buy the rim that looked like the one that would hypnotize you.
Later in the video they showed off their golf skills or lack thereof. But hey they still won a free t-shirt!
Looking at it it's likely from the 2005-06 season or the 2006-07 campaign, either Ovechkin's rookie or sophomore NHL season. Bradley came right from the Pittsburgh Penguins and scored seven goals and added 12 assists for 19 points in his first season in D.C.
You can check out the video below: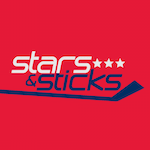 Want your voice heard? Join the Stars And Sticks team!
Write for us!
The next season Bradley scored four goals and added nine assists for 13 points. Ovechkin had a strong rookie season taking home the Calder Trophy and scoring 52 goals and adding 54 assists for 106 points.
Ovechkin added 46 goals and 46 assists for 92 points his second season. Ovechkin and Bradley shared the same team for six seasons.