Capitals: When a call went their way against the Penguins
There have been many times where you thought the league had something against the Washington Capitals. This time, it was a call that swung things in their favor and perhaps set the tone for the series.
After blowing a 2-0 lead against the Pittsburgh Penguins in Game 1, the Washington Capitals looked to bounce back in Game 2 and set the tone that this year truly was going to be different.
Alex Ovechkin notched his seventh goal of the playoffs and second of the series 1:26 into the game. Sidney Crosby was called for hooking at 12:59 and the Caps struck on the power play with Jakub Vrana right in front of the net off a pass from Lars Eller for his first career playoff goal. Braden Holtby was credited with the secondary assist.
The Caps took a 2-0 lead, yikes, into the locker room at the first intermission.
In the second period the Caps tripled their lead with a skip ahead pass by Eller over to a charging down-ice Brett Connolly. Connolly buried it for his first goal of the playoffs at 2:08.
The Penguins got on the board at 4-on-4 with a shot from downtown by Kris Letang. 3-1 was the score after two periods.
With 10:57 left in the third it looked like the Penguins inched closer with a goal from Patric Hornqvist but under review determined by the officials said that it wasn't a goal. Sidney Crosby, who had the assist on that play, was stunned. For once, a call that actually went the Caps way. Was this a sign for something different in that series?
The Penguins pulled their goalie and the Caps would seal the win with an empty netter from Nicklas Backstrom. It would even the series at a game apiece and send the series back to Pittsburgh with momentum on the Caps side.
Braden Holtby made 32 saves in the win. Barry Trotz had great praise for his goaltender following the win telling Brian McNally of NHL.com:
"I thought Braden was real solid all game. I thought he made some timely saves. He moved well. They were trying to make everything very difficult and he responded the way he always has."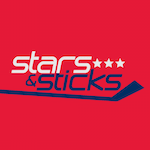 Want your voice heard? Join the Stars And Sticks team!
Write for us!
Holtby added in the same article:
"We have a confident group, so we don't get that down. We believe we can win any game no matter the circumstances. We focus on the task at hand and tonight that was Game 2. Game 1 was a long time ago."
The Caps looked to take that momentum into Game 3 at Pittsburgh and rewrite the history book when it comes to springtime matchups against their rival.