Capitals: When Evgeny Kuznetsov exorcised the demons
Two years ago today, the Washington Capitals and Evgeny Kuznetsov stunned the Pittsburgh Penguins.
The Washington Capitals had trouble getting over the second round hump for several years but on this night things were different. Each Capitals win over the Pittsburgh Penguins had it's own specialty but the one that still gets talked about to this day is Evgeny Kuznetsov's overtime goal.
This was a low scoring chess match with the Caps having to play several young bucks due to a hand injury to Nicklas Backstrom that he suffered in Game 5. Nathan Walker, who was one of those players, had an assist on the game's first goal which was scored by Alex Chiasson.
That tally came in the second period after a scoreless first and it put the Caps on the board in a night they pretty much controlled the game. Chiasson's goal came at 2:13 in the second.
Chiasson was planted in front of the net on the right side and caught a pass from Walker that was set up behind the goal. Chiasson let er rip and it was 1-0 Washington.
The Penguins tied the game at 11:52 with a goal from Kris Letang. Nobody scored in the third period and the game was sent into overtime.
In the extra session, Sidney Crosby turned the puck over and the puck went right to Alex Ovechkin and we all know the rest. He found Kuznetsov streaking down the ice. He set up a perfect pass down ice. Kuznetsov did the rest and beat Matt Murry and all of a sudden the drought was over.
"Thank God it's happened. Move forward," said Ovechkin, who was shown on the replay with his arms in the air, a sigh of relief across his face.
"All day, I knew we were going to win. This group has a lot of resiliency," said then-head coach Barry Trotz.
Resiliency was right. Just a few days ago the Caps were hit with the news of Tom Wilson serving a three-game suspension. Entering that night, they didn't have Nicklas Backstrom either who was dealing with an injury. Instead of dwelling on what they didn't have, they persevered.
But it was more than just those short term woes. The Caps entered that season with a hangover from their second round defeat.
Trotz told the media after the game, via Isabelle Khurshudyan of The Washington Post:
"They probably needed to go through some of this. . . . I think toughness is more about when you get knocked down, are you going to get up again? This group got up again, and that's where we started when we started this journey in training camp. We had to back off a little bit and let them heal a little bit. And then we got it together. A lot of it comes from the sort of pain and suffering of the past that's made them stronger."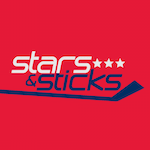 Want your voice heard? Join the Stars And Sticks team!
Write for us!
It made them stronger indeed and this time David knocked down Goliath. After the Caps took Game 5, it became OK for a city to believe and that belief carried over into that road environment.
The Caps have moved on and the Tampa Bay Lightning would await.
Happy two year anniversary of this game Caps fans! Very fitting it came on a Thursday for our throwback series. Here's hoping you're all keeping safe during this pause.