Capitals: Punching their ticket to the Stanley Cup Final
It had been 20 years since the Washington Capitals have made it this far.
After a dominating win on their home ice to make the 2018 Eastern Conference Finals a new series, the Washington Capitals carried their momentum down to Tampa Bay to demolish the Lightning and punch their ticket to the Stanley Cup Final in Game 7.
The stands were packed with a sea of blue along with some red dots from the Caps fans that made the trip. Back home in D.C. fans packed Capital One Arena in anticipation of a big night ahead.
62 seconds into the game a one-timer blast from downtown by Alex Ovechkin took the air out of the building, except for those Caps fans who invaded.
"I think Ovie has been a man on a mission. They wanted this game, no question," said head coach Barry Trotz via the Associated Press.
"The first goal was very important. After that you could see we have all the momentum on our side. Holts was unstoppable today. He was special. Everybody was all in. Everybody was sacrificing their bodies. I think we all deserve the win," Ovechkin added in the same article.
From there, things got heated from both sides with Tom Wilson and Braydon Coburn going after it. They both were whistled for unsportsmanlike conduct and after serving their time in the box, went at it and fought.
In the second Andre Burakovsky doubled the lead by pouncing on a loose puck and breaking away from Dan Girardi after a pass from Lars Eller. It was his first goal of the playoffs and after dealing with an injury and a healthy scratch, the goal was huge for Burakovsky's confidence. Wilson had the secondary helper. The goal came at 8:59.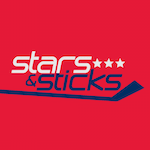 Want your voice heard? Join the Stars And Sticks team!
Write for us!
At 16:31 Burakovsky flew down the ice after a long pass from John Carlson to finish the breakaway goal for his second of the game. It was enough to earn Burakovsky the hard hat after the game.
At 16:17 an empty net goal from Nicklas Backstrom sealed the win. 4-0 was the final. Braden Holtby, for the second straight game, pitched a shutout with 29 saves.
Back home in D.C. was pure bedlam as fans rushed to the steps of the National Portrait Gallery across the street from Capital One to celebrate the win. It was a very peaceful celebration with no riots and complete joy.
The Capitals did it. They advanced to the Stanley Cup Final and their work in that spring of 2018 was still far from over. Only the Vegas Golden Knights stood between the Caps and the Stanley Cup at that point in time.