Capitals: Remembering The Save
Nobody ever forgets about this save especially Washington Capitals fans.
It was a save that not only saved the game for the Washington Capitals but tipped the momentum on their side for the rest of the series. It's the kind of save that makes a statue go up outside of an arena someday in the future. It's a save so picturesque, many fans already have it proudly hung in their houses.
The Caps were coming off a 6-4 loss in Game 1 and were looking to even up the series in Game 2 before heading back to D.C. They got a signature 3-2 win with the game winning goal coming from none other than Brooks Orpik. Plus a series-defining save by Braden Holtby that still gets talked about as conversation for the best save of all-time. In our book here at Stars and Sticks, we believe it is.
At 7:58 in the opening period James Neal put the Vegas Golden Knights up 1-0 to the delight of their fans. At 17:27 the Caps would tie it with Andre Burakovsky setting up Michal Kempny. Kempny fired a cross-ice pass to Lars Eller who put it in for his sixth goal of the spring.
While the first period ended with a 1-1 tie, there was a brief scare for the Caps when Evgeny Kuznetsov took a hit along the boards that caused him to leave the game.
In the second period the Caps got a power play when Alex Tuch was called for cross checking at 5:13. 25 seconds later Alex Ovechkin joined the party scoring his first Stanley Cup Finals goal and his 13th overall in the spring up to that point.
Ovechkin's goal came in beautiful fashion, he was positioned in front of the net left side. Nicklas Backstrom fed the puck to Eller, Eller went cross-ice and Ovechkin banged it in to give the Caps a 2-1 lead.
At 9:41 Orpik made it 3-1 with his first goal scored since Feb. of 2016. It came on a shot from the right face-off circle and made the whole bench go wild. Eller and Burakovsky had the helpers. It gave the Caps a 3-1 cushion and that goal would go on to serve the Caps well in the following period.
"I haven't yelled that loud for someone to score a goal since (Alex Ovechkin) scored one of his milestones," T.J. Oshie said after the game to Isabelle Khurshudyan of The Washington Post (subscription required).
Late in the second the Golden Knights got a power play when Oshie was called for interference. They struck at 17:47 with a goal from Shea Theodore to make it a one-goal deficit entering the final period.
Remember that penalty Tuch committed that led to an Ovechkin PPG. Ironically, that isn't a play he would like to have back but this next one we will talk about is a shot Tuch wishes he wants back.
With 1:59 left in the game, Tuch had a wide open net and Holtby had a split second to dive to his right, stick his paddle out and make the greatest save that is still talked about to this day. Holby's night ended with 37 saves but none bigger than the one below.
"I honestly thought for a second there, when it bounced right to them, I was like, 'Oh, no' but then I was like, 'oh yes'," Backstrom told the media after the game.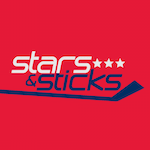 Want your voice heard? Join the Stars And Sticks team!
Write for us!
Holtby added, "I was just trying to get something there, trying to see where I thought someone would shoot that and luckily it hit me."
Just how big would that save be in the series? We found out just a few games later.